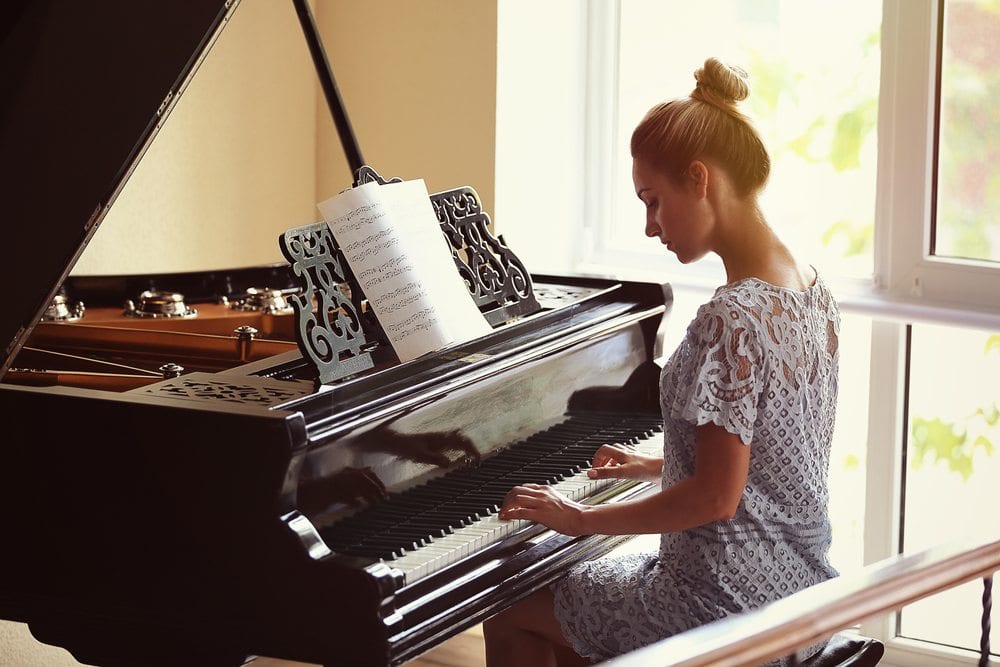 Music is something that everyone can appreciate. There is such a wide variety of genres, instruments, and vocalists out there that each of us is sure to find our niche. Thanks to technology, we can now rock out to our own music any time we please. Music artists, teachers, and composers understand the new wave of music and have arranged scores of popular pieces to suit young pianists at the beginner level. We have compiled a list of 15 beginner piano songs for your upcoming recital that are varied in style to accommodate a wide range of players. When considering learning an instrument, we want to feel that sense of familiarity and enjoyment with the music. Whether you are a child, just beginning to play, or an adult looking to establish a cool new hobby, mastering any of these beginner piano songs will be a great way for you to hone your skills. Plus, they will be great pieces to show off to your friends.
How to warm up before playing the piano?
Before you start practicing, you can do some easy exercises in order to loosen up your stress levels and to help you focus. You can start by slowly rolling your shoulders to release some of the tension. After you've done that, you can move your head side to side. Facing the piano extend your hands to be at a keyboard level, and then slightly shake your hands. When you are done, move your hands up and down from your writsts and stretch them. To ease up the pressure from playing the piano you could also stretch your fingers now and then. 
Another important thing you can do before playing beginner piano songs is to practice your dinamics. To do so, you can start with a Crescendo and end up with a Decrescendo this will make your brain think about the pressure used by your fingers. Like you, your muscles have their own memory, they are able to perform a variety of tasks after you learn them. Playing the piano for a long period of time will build up some kind of a muscle memory.
By exercising on a regular basis you can help this memory process. If you have followed experienced pianists during their concerts you might have noticed that some of them don't really need to look at the keyboard. It is true that you learn a play when you practice it but if your muscle memory knows the keys and you know the sound you will be able to perform anything anytime.
What Makes a Piano Song Suitable for Beginners?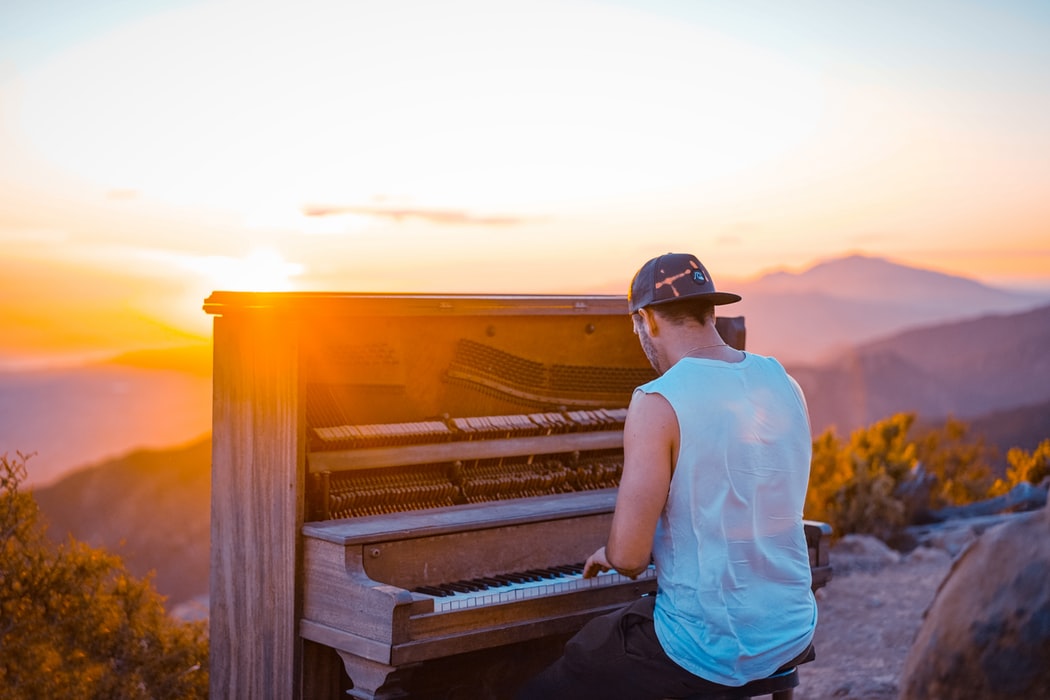 Image Source: Unsplash
Playing piano can be simple or complex, depending on the abilities of the student. The best beginner piano songs offer a combination of reasonable challenges and fulfilling successes.
Beginner Piano Song Challenges
The ideal beginner piano song offers a variety of challenges including playing with both hands, diverse melodies, and intermittent pedaling. A beginner piano song may also require volume variations and unfamiliar rhythms or time signatures. In the end, beginner piano songs should provide the fulfillment of learning a song that the student can be proud to perform.
Beginner Piano Song Benefits
People enjoy listening to songs they already know, so it can be a helpful perk for beginning students to play familiar and popular tunes. Many popular piano songs are available in simplified versions, which makes it easier for anyone to pick up the versatile skill of a pianist. While beginner piano songs may seem simple in theory, in practice, even beginner versions can sound impressive to the general audience.
What Should You Do to Prepare for Your Recital?
Image Source: Unsplash
As with anything, practice makes perfect. For these beginner piano songs, we have a few tips to help guide your recital practices.
Song Choice
Be proactive about your song choice. Decide in advance what you want to play and be sure to stick to it. This allows you to have plenty of time to become familiar with the piece and increases your chance of mastery prior to the performance.
Variations During Practice
Vary your practice styles. Although it may be tempting to sit down and play the song the same way again and again, you stand to gain even more proficiency when you change up your practice focus. Perhaps on one day, you focus specifically on the left hand, and another on the right. You may spend one day not using the pedal to improve your finger fluidity while the next day you may switch up the tempo with a metronome. Have fun with this! You can only continue to improve the more you practice.
Have Fake Performances Before the Real One
Try to perform in a low-stakes environment to become familiar with the performance atmosphere. If possible, practice on the actual stage and piano you will use at the recital. Other great suggestions include dressing up nicely for your rehearsals and recording yourself; that way, when you watch your video later, you will know exactly what to focus on in your improvement practices.
15 Best Beginner Piano Songs for Recital
"Canon in D" – Pachelbel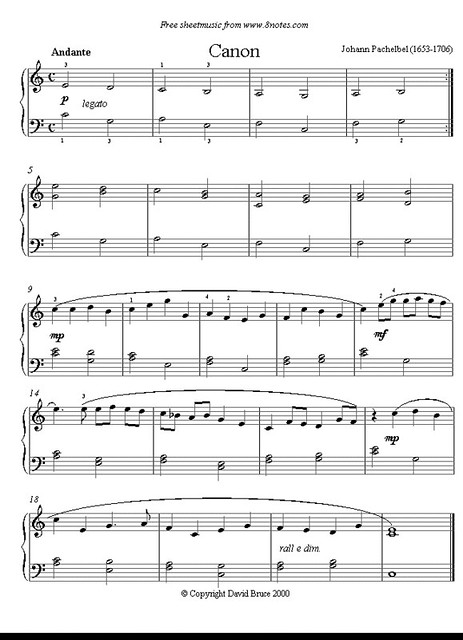 Image Source: Flickr.com
Pachelbel's "Canon in D" is one of the many classical beginner piano songs beloved by students and teachers everywhere. This song is often available in beginner student's piano books, as it has been made widely available in its simpler version. It is also a song that can grow in complexity as the student progresses over time.
"Somewhere Over the Rainbow" – Wizard of Oz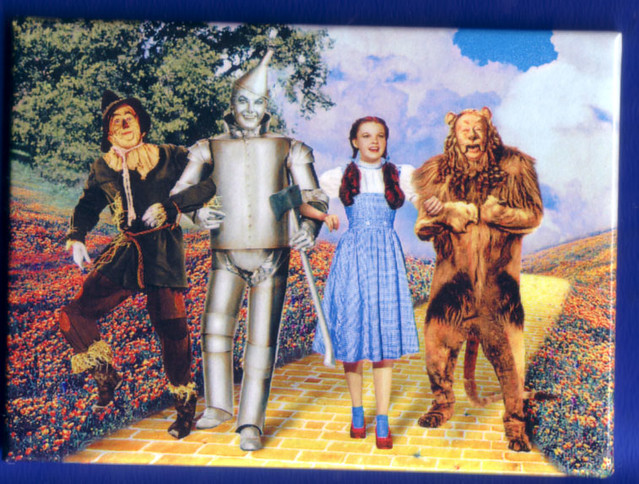 Image Source: Flickr.com
"Somewhere Over the Rainbow," a familiar song from the iconic film, The Wizard of Oz, can be transposed into any key that is comfortable for any student. This makes it an ideal beginner piano song since some keys (for instance, C Major) are much simpler to learn than more complex keys with sharps or flats (such as E Major). If you are a fan of The Wizard of Oz, you can also learn "The Wizard and I" and have a fun time singing it with a friend. 
"I Dreamed a Dream" – Les Miserables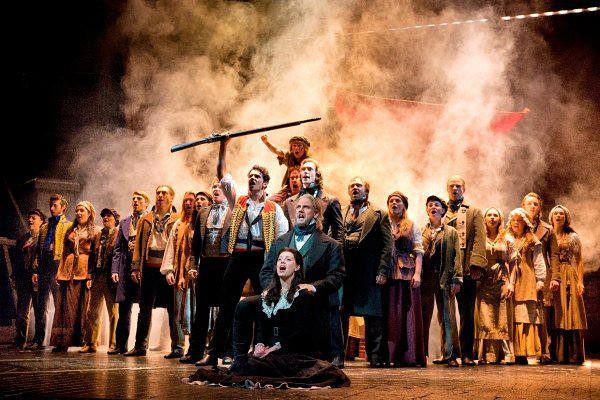 Image Source: Flickr.com
Famous for its timeless musical performances, Broadway has long blessed patrons with such tunes as "I Dreamed a Dream". This is a great piece to wow your audience with thanks to its beautifully sweet melody. Many people will recognize it from Broadway's Les Miserables. If you like Les Miserables, once you master "I Dreamed a Dream", you might also want to try learning "One day more" from this Brodway masterpiece. 
"Piano Man" – Billy Joel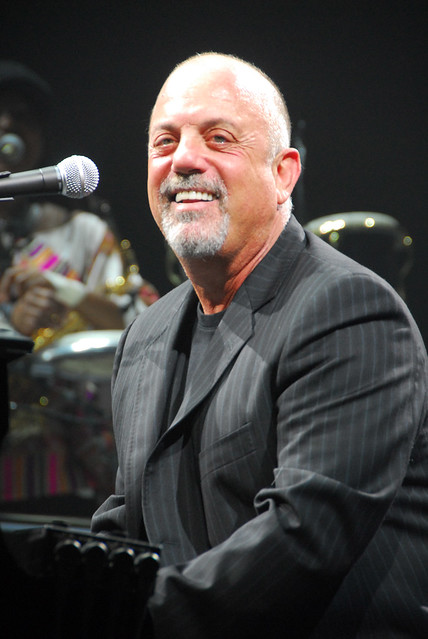 Image Source: Flickr.com
With such an appropriate title, we must add Billy Joel's popular hit "Piano Man" to this list. If you are a singer as well, or you happen to have a friend who can join you for the vocals, this is a great opportunity to take your performance up a notch. With or without the vocals, this beginner piano song can leave a great impression on your listeners.
"Amazing Grace" – John Newton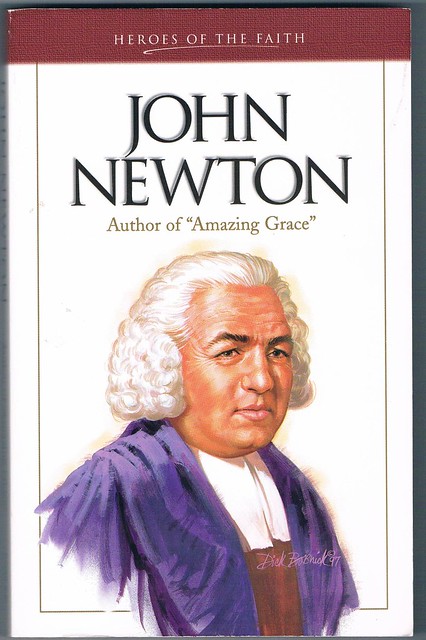 Image Source: Flickr.com
Speaking of singing along, this religious hymn will have your audience humming the lyrics and maybe even whispering a prayer. Take listeners to church with this epic song that reminds us all of the humility and grace of this human life.
"All I Ask of You" – Phantom of the Opera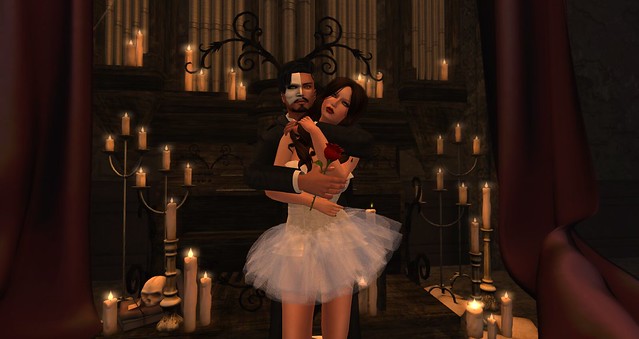 Image Source: Flickr.com
"All I Ask of You" is another tune with optional vocals that has a beautiful composition from the well-loved musical, Phantom of the Opera. Audiences are sure to be amazed by a beginner's ability to deliver this song with grace and poise.
"Imagine" – John Lennon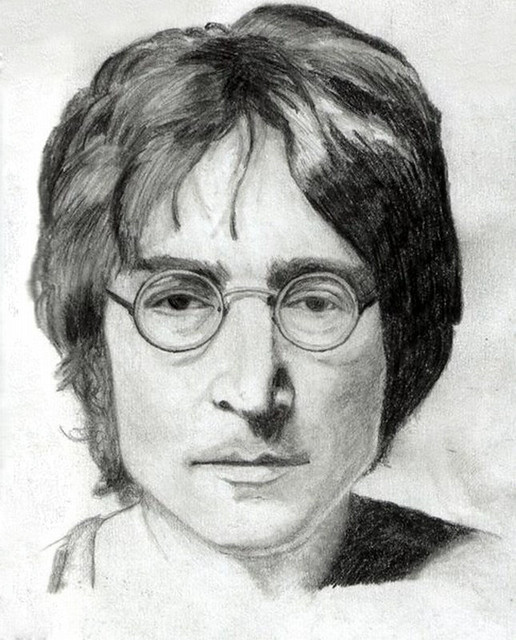 Image Source: Flickr.com
Make a statement with John Lennon's "Imagine". This iconic piece tells a beautiful story about peace and love in the world. It is incredibly recognizable and is the type of song anyone can get behind.
"Fur Elise" – Beethoven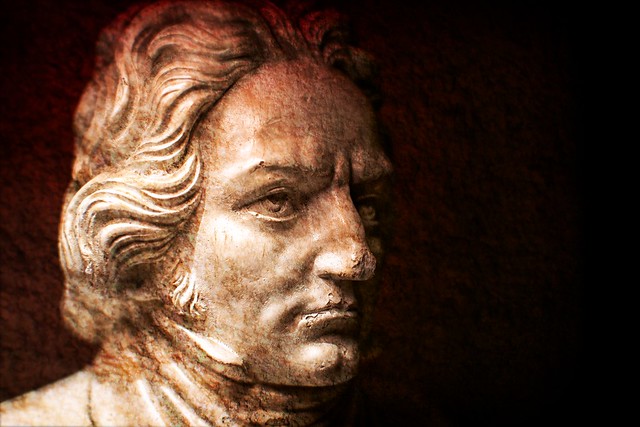 Image Source: Flickr.com
The familiar opening to this classic song by the musical legend, Beethoven, will perk up your audience and have all ears on you. Dance along the keys with this well-known and varyingly complex tune.
"The Entertainer" – Scott Joplin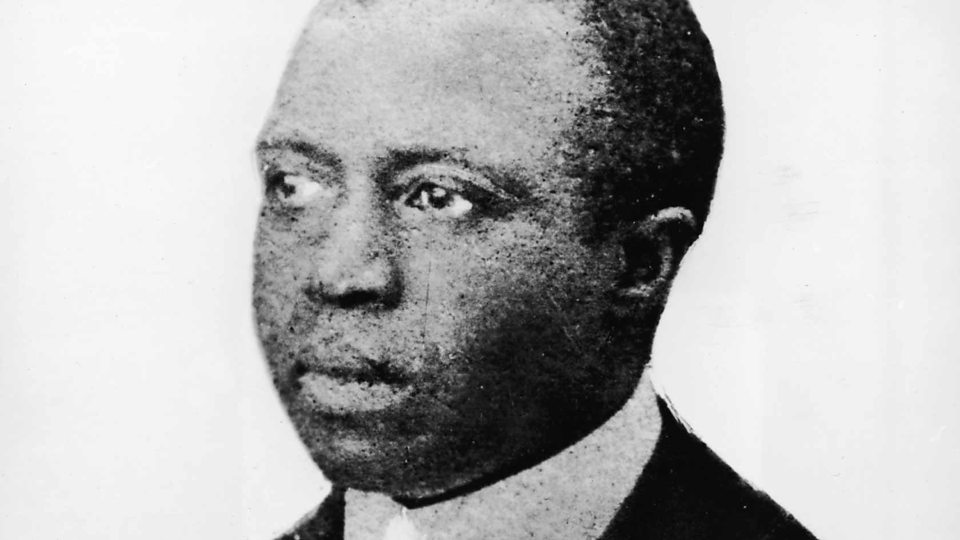 Image Source: Flickr.com
Another classic artist, Scott Joplin, delivered the purpose of this song perfectly with the name. "The Entertainer" is an upbeat song that just might get your crowd dancing along and is a great change of pace from beginner piano songs with slower tempos.
"Ave Maria" – Schubert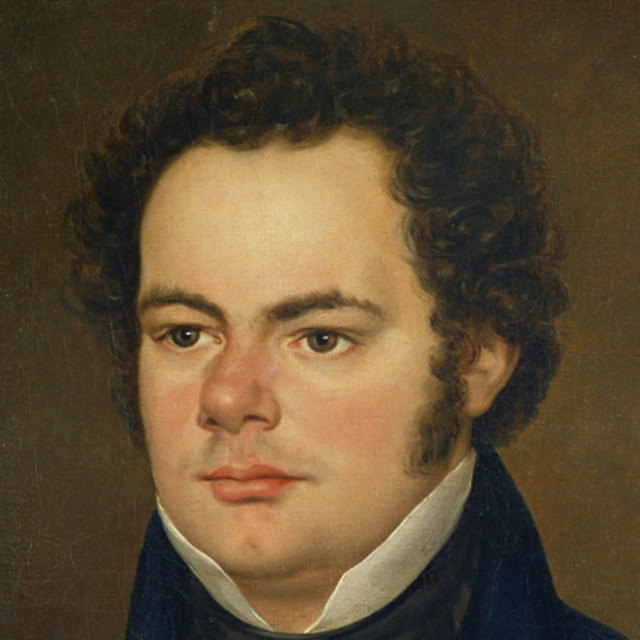 Image Source: Flickr.com
This beautiful and well-known song offers repetitive melody lines that allow a beginner to learn quickly and feel comfortable under the pressures of performing. It is a great song for practicing familiarity with chords and arpeggios.
"Tale As Old As Time" – Beauty and the Beast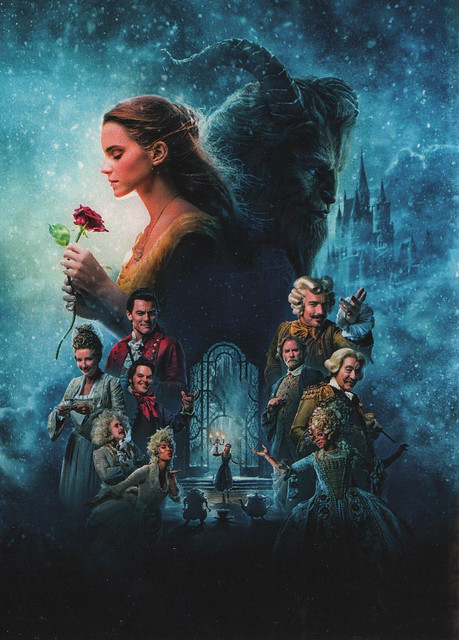 Image Source: Flickr.com
It is hard not to love Disney classics, and Beauty and the Beast is certainly among the most popular of them all. "Tale As Old As Time" will leave your audience in awe after you have masterfully delivered this beautifully melodic ballad. "Be our guest" to learn more songs from this Disney classic after you mastered "Tale As Old As Time".
"My Heart Will Go On" – Titanic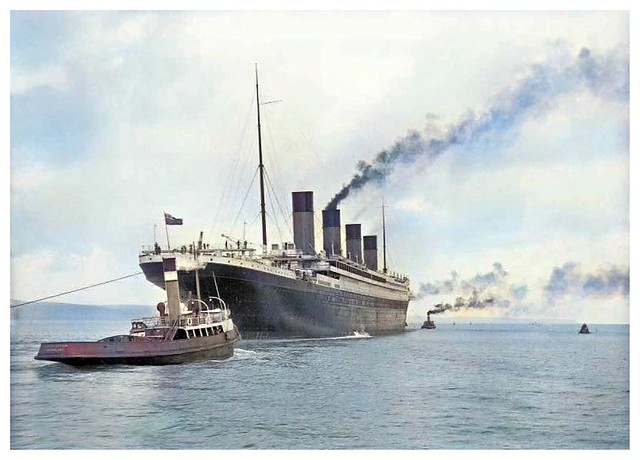 Image Source: Flickr.com
A simple song with only a few key chords to learn, "My Heart Will Go On" is a Grammy-winning song that is sure to impress. Captivate your audience's hearts with the memory of this moving and deeply heart-wrenching story.
"Moonlight Sonata" – Beethoven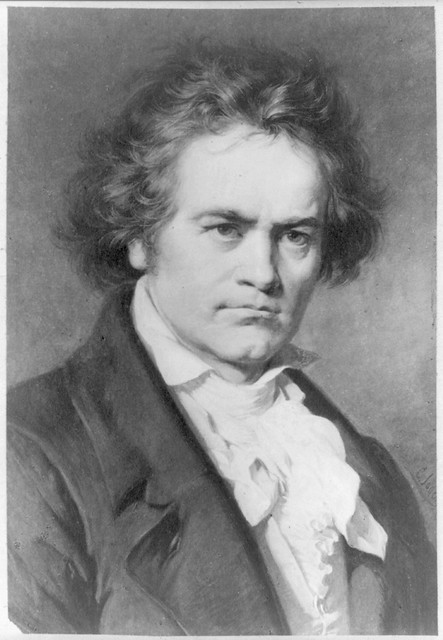 Image Source: Flickr.com
Beethoven is so legendary, he has made it on this list twice. "Moonlight Sonata" is played at a graceful pace, making it an ideal beginner piano song. Living up to its somewhat haunting title, this song is a great way to make a lasting impression on your audience.
"Don't Stop Believing" – Journey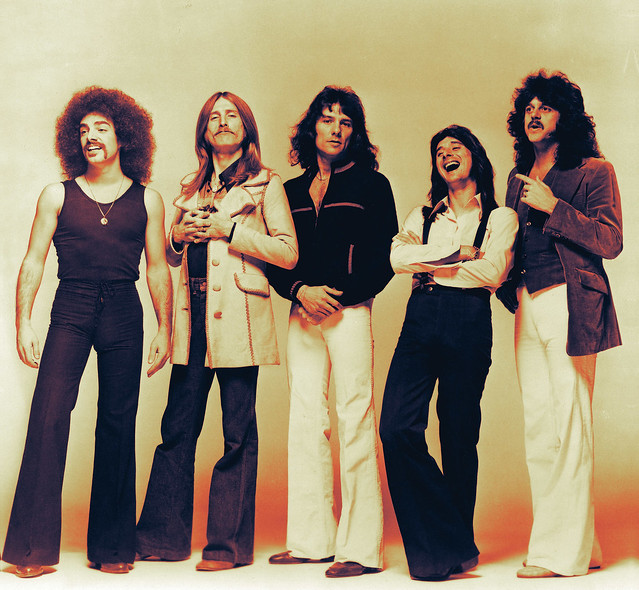 Image Source: Flickr.com
Not only can you impress your recital audience with this timeless karaoke jam, you will be able to impress friends for many years to come with the classic anthem "Don't Stop Believing". It has a funky, upbeat rhythm that many are sure to enjoy.
"Let It Be" – The Beatles
Image Source: Flickr.com
Another iconic song by a famous band, "Let It Be" allows students to focus on chords and fingerings, which are crucial skills to master as a pianist. Consider slowing this song down a few clicks to enhance the beauty and inspiring message of this timeless tune.
Final notes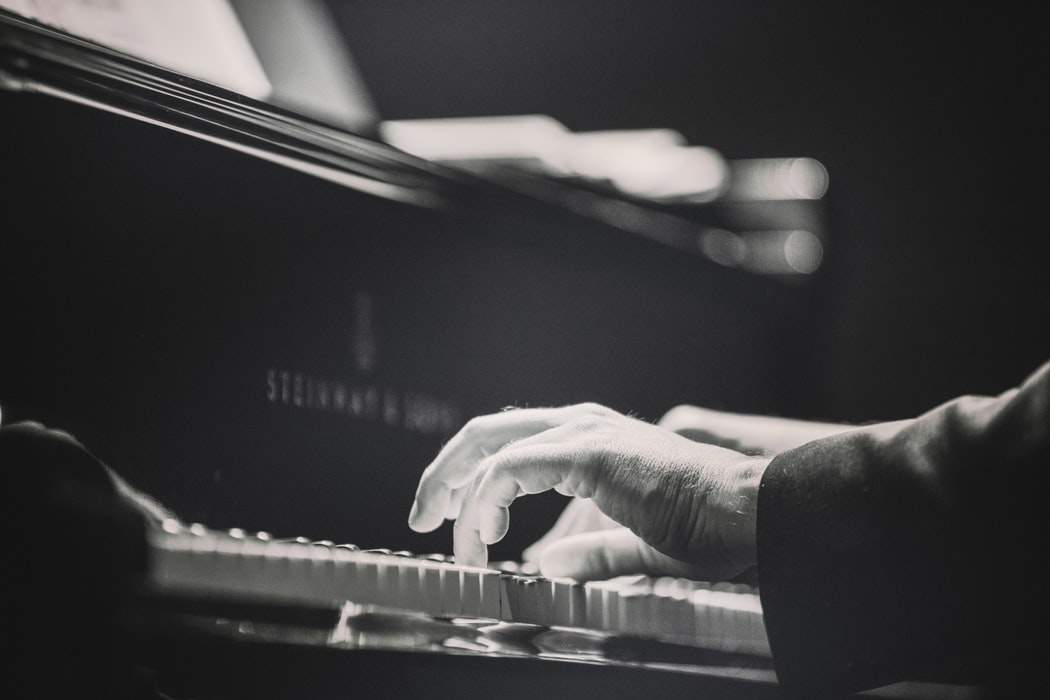 Image Source: Unsplash
Music is truly something magical. Although it comes in many forms, piano music is still one of the most beautiful ways to feel and express life's experiences and emotions. When considering beginner piano songs, it is important to keep in mind many factors, such as tempo, fingering, pedaling, and melodic complexity. This list offers a diverse collection of tunes that can offer any beginner a chance to improve and impress. While there are countless beginner piano songs to choose from, it can be helpful for new students to begin with familiar and heartwarming tunes. These songs can create a sense of accomplishment for the student and others who witness their growth. With their first performance under their belt, who knows? Perhaps, they will someday compose a timeless classic that future beginners will learn from.

If you found this article useful, check our reviews and guides about how to read a musical sheet, how to record a digital piano the right way, and our study about which type of piano might suit you best.