This list will show you the best digital piano under 1000 dollars you can have at this moment. The following instruments have been chosen to showcase the onboard sound quality, touch sensitivity, and dynamic range of each individual device compared to the true elements of the concert grand piano.
Our Top 5 Digital Pianos Under 1000 Dollars
First, take a look at a comparison table of our five recommendations for best digital pianos under 1000 dollars of the year.
| Product | No. & Type Of Keys | Price Range | Dimensions & Weight | Rating |
| --- | --- | --- | --- | --- |
| Yamaha DGX660 | 88, weighted | $$$ | 55 x 17.5 x 5.75 inches; 46 lbs. | 4.6 stars |
| Korg SP-280 | 88, weighted | $$ | 53.58 x 15.98 x 30.91 inches; 41.89 lbs. | 4.5 stars |
| Williams Rhapsody 2 | 88, weighted | $$ | 60.4 x 21 x 13.6 inches; 95 lbs. | 4 stars |
| Casio Privia PX-870 | 88, hammer action | $$$ | 55.08 x 11.77 x 31.54 inches; 74.08 lbs. | 4.5 stars |
| Korg B1SP | 88, weighted hammer action | $$$ | 53.35 x 13.82 x 30.39 inches; 81.57 lbs. | 4 stars |
10. Yamaha P115 88-Key Weighted Action Digital Piano
As a leader in digital piano technology, Yamaha incorporated the world-renowned CFIII 9' concert grand piano sounds into the P115. Its weighted action keys are heavier to the touch on the low end of the keyboard and lighter on the high end, just like a classic instrument would do.
The onboard drum rhythms coupled with professional effects do a marvelous job showcasing the dynamic sounds of the concert grand. Lastly, users can connect this unit to their iOS devices through the Controller App.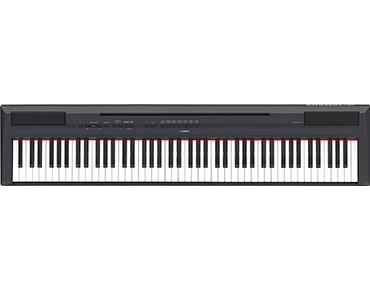 | Pro | Con |
| --- | --- |
| Authentic to touch | No MIDI input or output and no elaborate synth sounds |
| Enhanced sound system | Average bench |
| Metronome feature | |
A product overview is available on YouTube.
9. Alesis Recital 88-Key Beginner Digital Piano
The Alesis Recital digital piano hosts semi-weighted keys at its best. The full-featured digital piano has 5 built-in voices that are customizable to your liking. Moreover, the Alesis Recital can shift into Split Mode where you can assign one sound to your left hand and another to your right. Once you adjust your reverb and chorus to fully develop your sound, playing this premium digital piano will be nothing short of fun.

| Pro | Con |
| --- | --- |
| One-year manufacturer's warranty | Tonal resolution from speakers isn't great |
| Sounds and feels like a real piano | |
A product overview is available on YouTube.
8. Flychord DP330 88-Key Fully Weighted Console Digital Piano
The Flychord DP330 carries an authentic piano touch at your fingertips. The fully weighted 88 hammer action keys bring a realistic feel and response which makes it a great candidate for the best digital piano under 1000 dollars. It has three built-in pedals, suitable for both beginner and advanced instrumentalists.
The Flychord DP330 features Twinova. What this feature does is that it splits the keyboard into two sections. As a result, both teacher and student get to play the same pitch and voice at the same time. Moreover, the DP330 also holds 500 digital voices, 200 styles, 128 polyphony, 60 preset songs, and 5 demos.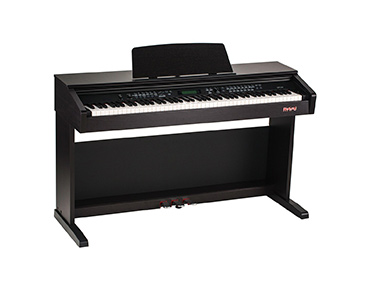 | Pro | Con |
| --- | --- |
| Good sound | The keys may feel too heavy to some |
| Key action is very real |  Not portable |
| MIDI connectivity to get your music to MP3 player, PC or make it a private session | |
A product overview is available on YouTube.
7. Roland RP102 Digital Piano
The Roland RP102 Digital Piano is perfect for the modern-day lifestyle. This digital piano could not be left off the list of the best digital pianos under 1000. The RP102 is advanced with onboard Bluetooth technology.
You can easily connect your smartphone or tablet to enhance your performing and learning experience. Not only that, but you can also view digital music through Roland's Piano Partner 2 app. The RP102 houses 128 voices that can be transposed with different effects.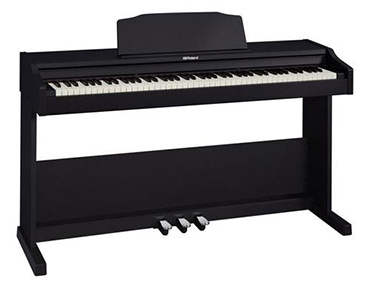 | Pro | Con |
| --- | --- |
| Smooth operation | Low on hardware features |
| Saves space | Entry-level instrument |
| Features 3 pedals made of metal | |
A product overview is available on YouTube.
6. Casio Privia PX160 88-Key Digital Piano
Moving on, the Casio PX160 digital piano is another marvelous instrument. The great value that comes with such a modest instrument is unbeatable. This digital piano has 88 fully weighted keys that leave you feeling as though you are performing at a true acoustic grand piano.
The weight of each key is precisely scaled from the lowest key to the highest key. Moreover, the PX160 has an immaculate built-in speaker system and hosts 9 different digital tones and an added reverb effect. All in all, this is the best digital piano under 1000 dollars recommended for both home and professional performances.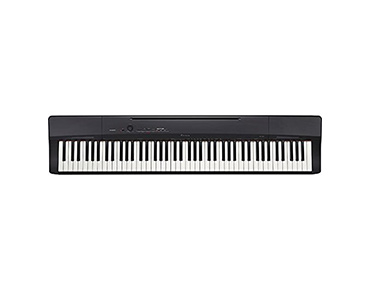 | Pro | Con |
| --- | --- |
| Clean, clear, and accurate sound | Lacks percussion features |
| This is the first Casio Privia model with new string sounds |  Electrical sound issues |
| Speakers manage to deliver rich sounds thanks to their strategic position | |
A product overview is available on YouTube.
5. Korg B1SP Digital Piano
Another candidate for the best digital piano under 1000 dollars is the Korg B1SP. This choice talks to those players on a budget who have big plans for their practice, stage, and home musical plans. Slimly designed and brilliant in sound to produce a realistic piano sound, Korg's authentic grand piano provides pianists with an expressive performance. Behind its clear sound stands Korg's Motion Feedback (MFB) technology.
This is an active servo system that is able to attain low frequencies with minimum distortions. For a budget-friendly price, users get the full spectrum of 88 keys upgraded with weighted hammer action. This beautiful instrument blends in seamlessly with your home studio décor.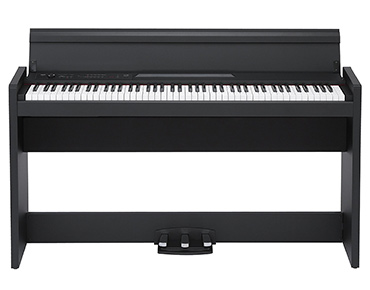 | Pro | Con |
| --- | --- |
| The response of keys is extremely close to a grand piano with rich sound | Transpose feature is missing |
| Great for small spaces | |
A product overview is available on YouTube.
4. Casio Privia PX-870 Digital Piano
The Casio Privia PX-870 is designed to exemplify a true grand piano experience. Beyond the modern design, there is a powerful and authentic sound that is inspiring to witness. The pureness of the piano's sound is a direct result of the award-winning AiR Sound Source.
What you need to know is that Privia PX-870 houses 10 built-in songs, 256 note polyphony, 88 Tri-Sensor II Scaled Hammer Action piano keys and 19 instrument tones. All in all, this is the best digital piano under 1000 dollars for versatility.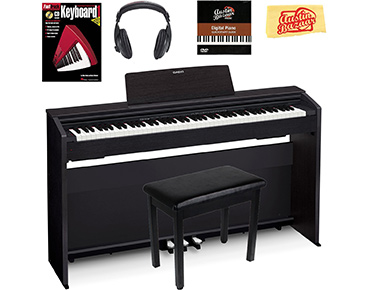 | Pro | Con |
| --- | --- |
| One person is enough to assemble this piano right off the box | There is no feature to save favorite settings |
| Sound is very close to the one of a grand piano | |
| Fluid key action | |
A product overview is available on YouTube.
3. Williams Rhapsody 2 88-Key Console Digital Piano
Built around 12 custom sounds, the Williams Rhapsody 2 digital piano is a beautiful addition to your studio décor. Its sounds are created from vintage electric pianos, a prominent grand piano, synths, strings, and so much more. The Williams Rhapsody 2 includes an immersive internal speaker system, a 2-track recorder, 88 weighted keys, and 12 high definition demo songs.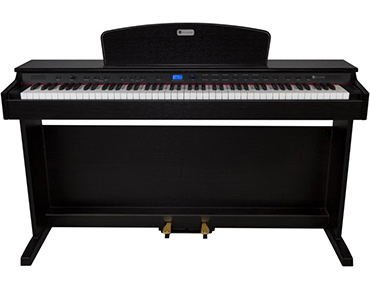 | Pro | Con |
| --- | --- |
| Weighted keys | Keys may not have the feel of a real grand piano |
| High definition sound | The sound may be a little muffled |
| Easy-to-read LCD screen | |
A product overview is available on YouTube.
2. Korg SP-280 88-Key Digital Piano
This beautifully designed instrument is perceived as the best digital piano under 1000 dollars by many. Your playing experience will climb a step thanks to the delicate sounds from this instrument. In the end, you'll get a realistic dynamic concert atmosphere.
The 88 keys are sensitive to touch. All in all, the Korg SP-280 model is modern and has a stylish backside designed to look great on stage. Under the fingers of music lovers, this board will be able to beautifully transition from pianissimo to fiery fortissimo. This unit allows owners to recreate rich sounds of 30 different instruments such as  organ, electric piano, clavs, strings, harpsichord, and many others.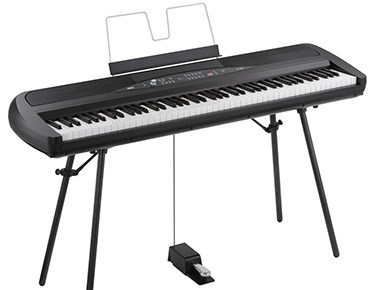 | Pro | Con |
| --- | --- |
| User-friendly interface | Limited sound customization |
| Weighted keys | The keys may loosen in time |
| Beautiful design | |
A product overview is available on YouTube.
1. Yamaha DGX-660 88-Key Graded Hammer Action Digital Piano
The new Yamaha DGX-660 is a digital portable grand piano that houses a variety of exciting interactive features. One new feature, Piano Room, allows you to select from a diverse group of pianos and acoustic settings that fit your very own unique atmosphere. Known for their versatility, Yamaha has added something very special which makes it the best digital piano under 1000 for singers.
The DGX-660 is compatible with an external microphone, allowing you to sing along while playing. You can add digital effects to your voice and hear the end results through the piano's internal speakers. Record your performance to a USB device to document all your new musical ideas and share your performances with friends and family. This is one of the best digital pianos under 1000 to save to your wish list.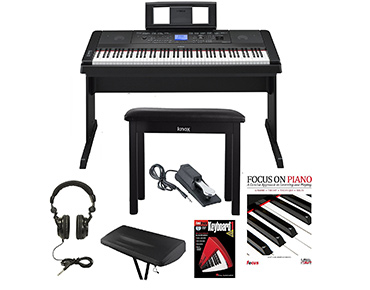 | Pro | Con |
| --- | --- |
| Sign along while playing | No traditional MIDI port |
| Pure CF sampling | |
| World-class concert piano | |
A product overview is available on YouTube.
Conclusion
Finding the best digital piano under 1000 can be a challenge. These well-crafted pianos are affordable, and they are made to fit anyone's budget. View the product overviews to discover more on what each instrument has to offer. Do you have a favorite budget-friendly piano to recommend as well? Please comment below!