The market is filled with piano brands advocating for their own special features, but weighted keys are a common amenity across all high-quality digital pianos. The best digital piano with weighted keys typically costs over $1,000. Nonetheless, there are specials for beginners in the form of lower-cost instruments. Across all price ranges, these are the best digital pianos with weighted keys. Each instrument was rated by functionality, recommended uses, and realism.
Our Top 5 Digital Pianos with Weighted Keys in 2022
Before delving into the detailed list of top seven pianos, this is a quick briefing on our top five products.
Piano Model
No. & type of keys
Price  
Dimensions & weight
Best for
Casio Privia PX-870
88 Keys, Weighted
$999
53 x 33 x 18/ 78 lbs
Intermediate Pianists
Yamaha P45
 88 Keys, Weighted
 $415
58.2 x 16.1 x 11.7 inches/ 25 lbs
Beginners
Roland F-140R
 

88 Keys, Weighted

$1,149

53.75 x 30.5 x 13.5 inches/ 76 lbs
Advanced Pianists
Yamaha Arius YDP162B
88 Keys, Weighted
$1,999
53.5 x 33 x 16 inches/ 92 lbs
Professional Pianists
Kawai CE220

88 Keys, Weighted

$1,899

55 x 34 x 20/ 134 lbs
Professional Pianists
10. Korg SP 280 BK Digital Piano
Korg SP280BK has one of the basic Korg Digital Piano models. It features big speakers and it has 88 Weighted Keys. The lower keys are heavier while the higher ones are lighter. Korg SP280BK has an easy to understand layout. This Digital Piano has simple commands and they make it accessible to anyone. With this model, you can use two voices at once by just pressing the buttons.
Korg SP 280 BK is a nice traveling companion. It does not weigh much and carrying it around is easy due to the fact that it has a foldable stand.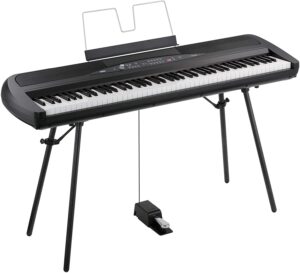 | Pro | Con |
| --- | --- |
| It can be easily carried around. | It is not highly durable. |
| Easy to understand layout and features. | |
| Has a nice array of vintage sounds | |
9. Yamaha P125 Digital Piano
Yamaha P125 has a lot of five stars reviews. It has a split mode that allows you to play different voice with each hand. The tuning goes from 414.8 Hz to 440.0 Hz and 446.8 Hz. Yamaha P125 tries to get close to the acoustic pianos by having the graded hammer standard action lighter when it comes to high keys and heavier when it comes to low keys. Also, the sound engine imitates a grand piano
Another great thing about Yamaha P125 is that it is capable of using Musical Instrument Digital Interface (MIDI). MIDI is a full digital musical interface that allows you to connect sound-controlling devices. MIDI also helps you modify notes easier by using MIDI messages. These messages tell an instrument which notes to play and how to play them.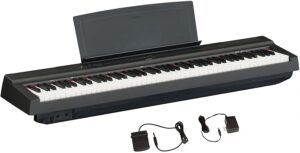 | Pro | Con |
| --- | --- |
| Tries to mimic a grand piano | Not the best audio built in speakers |
| Compatible with MIDI | Keys might feel a bit loose after a while |
| Easy to handle design | |
8. Kawai ES 110 Digital Piano Black
Kawai Es 110 has a great sounding at an affordable price. It has 88 weighted keys created with harmonic imaging technology. Kawai ES 110 also features 19 sounds, of which 8 are exceptional piano sounds. This digital piano also has dual-mode and split mode allowing you to either use two sounds together or to split the keyboard to have one sound on the left and a different one on the right.
Kawai ES 110 is a great piano for students because it has built-in piano lessons.
| Pro | Con |
| --- | --- |
| Excellent sounds. | Lack of a stand. |
| Keys made with harmonic imaging technology. | Keys might be noisy. |
| Built-in lessons. | |
7. Yamaha DGX-650B Digital Piano
According to many piano enthusiasts, Yamaha is the most consistent overall brand. The DGX-650B is a device which includes all of Yamaha's premier features at a reasonable price. As far as premier digital pianos, this device is entry-level.
Moreover, the stand does not replicate the body of an acoustic instrument, and there are no built-in pedals. However, the Yamaha sound library makes up for these minor inconveniences.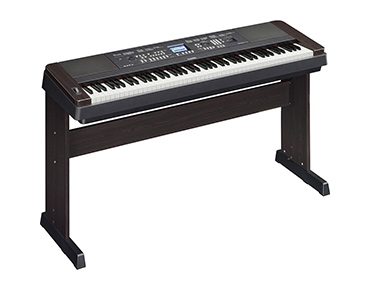 | Pro | Con |
| --- | --- |
| Excellent Yamaha sound library. | Lack of appropriate body or built-in pedals. |
| 128-note polyphony. | |
| Built-in songbook. | |
Bonus Read: Best Stage Pianos with Speakers
6. Korg LP-380 88 – Key Digital Piano
Korg is not especially popular for their digital piano selection. Despite their lack of maximum focus on this market, the LP-380 model is their best instrument for acoustic simulation.
At just under $1,000, the device's full body is built of quality plastic alloys with a matte finish. The LP-380's built-in sounds are the normal high-quality fare for Korg products — but the built-in speaker is on the quieter side.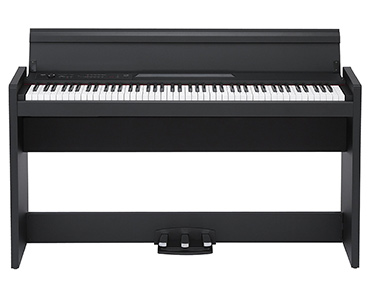 | Pro | Con |
| --- | --- |
| High-quality Korg samples and sound library. | Weak built-in speaker. |
| Great build quality for the price. | Sound can become distorted at higher volumes |
5. Casio Privia PX-870 Digital Home Piano
As with most Casio hardware, the Privia PX-870 is a workhorse among digital pianos. At $1,000, the device is perfect for practice or small-scale performances which makes it the best digital piano with weighted keys for intermediate pianists. The PX-870 has received a lot of praise for its excellent speaker quality; these speakers get loud, and they never sacrifice quality at high volume.
| Pro | Con |
| --- | --- |
| Built-in pedals and body. | Bulky instrument. |
| Realistic ebony and ivory feel. | Lacks audio customization options |
| Loud built-in speakers. | |
4. Yamaha P45 88-Key Weighted Action Digital Piano
Yamaha's P45 is among the most popular digital pianos on the market. The instrument is affordable yet it offers a surprising level of quality for its price. The weighted keys are better than anything else in the price range, and the Yamaha samples are touted as some of the best in the industry. Beginners should always consider purchasing the P45 model as their first digital piano.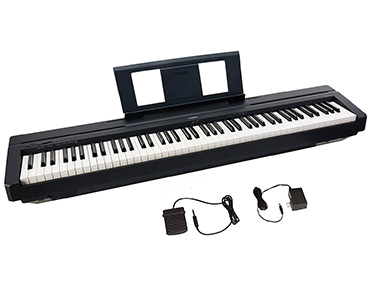 | Pro | Con |
| --- | --- |
| Affordable and reliable. | Outdated by newer models with improved sound libraries. |
| Excellent Yamaha sounds. | |
3. Roland F-140R Digital Piano
Roland is in the same position as Korg in that it isn't known for its selection of realistic digital pianos. The F-140R choice, however, is a well-known powerhouse in the industry. The F-140R is a state-of-the-art device with Bluetooth capabilities, smart accompaniment, and a library of over 300 sounds.
On top of that, it comes with great accuracy in simulating the feeling of acoustic keys. The piano's full build is also surprisingly elegant for a company that focuses more on portable devices.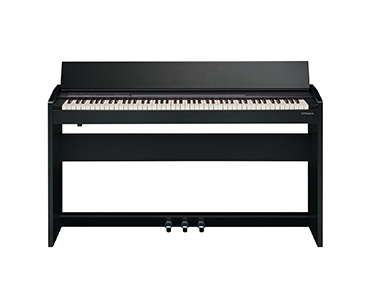 | Pro | Con |
| --- | --- |
| Hyper-realistic feeling. | Roland grand piano samples are more digital sounding than other brands. |
| Bluetooth and other advanced features. | |
| Offers more portability than other full-sized devices. | |
2. Yamaha Arius YDP162B Traditional Console Digital Piano
Yamaha offers more expensive digital pianos than the YDP162B, but it's their most valuable instrument to date. This Arius model is the best digital piano with weighted keys as it comes with all the offerings of a luxury digital piano in an affordable package.
It's a bulky device, but the rosewood finish and increased height make this one of the most realistic digital pianos on the market. However, the star of the show is the device's Pure CF sound engine. This cutting-edge sample library is making a big splash in the industry, and it's considered the new standard of excellence.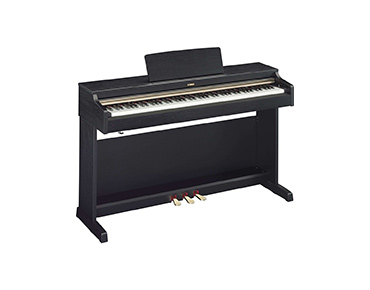 | Pro | Con |
| --- | --- |
| Increased keyboard height. | Heavy build. |
| Excellent Yamaha samples. | Limited portability |
| Elegant build and finish. | |
1. Kawai CE220 Digital Piano
Kawai has long flown under the radar of Yamaha and Casio, but their CE220 stole them the title of the best digital piano with weighted keys. The sounds of this device reach an unmatched level of realism. The CE220 model is also an elegant piano, but it's big enough to require a permanent location in your home.
Best of all, the device's extra features include everything a professional pianist could need. Though Kawai lacks access to the Pure CF sound engine, their pianos offer a rich and unique tone which can't be replicated elsewhere.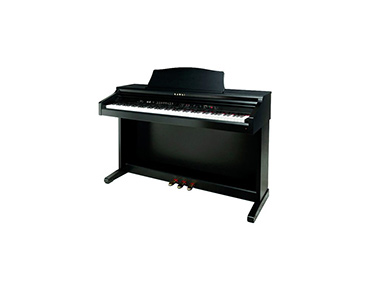 | Pro | Con |
| --- | --- |
| Elegant build. | Extremely heavy. |
| Full-featured device. | Not ideal for transportation |
| Unparalleled soundbank and realism. | |
Conclusion
Finding the best digital piano with weighted keys comes down to your own needs as a pianist; beginners need not venture into the luxury piano range. On the other hand, advanced pianists can do no better than the Kawai CE220. Please feel free to share your thoughts on any of these pianos.
Last update on 2022-07-24 / Affiliate links / Images from Amazon Product Advertising API