The Kurzweil name is a decent name in the musical instrument industry that those who seek a good quality-price ratio turn to on a regular basis. Kurzweil makes digital pianos for the beginner and expert and just about everything in between. The following five Kurzweil digital pianos we'll discuss are based on functionality, dependability, and user review.
Piano Model
No. & type of keys
Price  
Dimensions & weight
Best for
Kurzweil Forte 88 Key Stage Digital Piano
  

88 Keys, Weighted

$3,995

54.5 x 15.5 x 5.5 inches/ 49.6 lbs
Professionals
Kurzweil ARTIS Digital Piano

88 Keys, Weighted

$2,195

6 x 55 x 16 inches/ 46 lbs
Professionals
Kurzweil MPS10 88-Key Portable Home Digital Piano
 

88 Keys, Weighted

$724

3.5 x 51 x 14 in/ 39 lbs
Intermediate
Kurzweil MP15 Student & Teacher Digital Piano

88 Keys, Weighted

$1,599

19 x 56 x 35 in/ 125 lbs
Intermediate
Kurzweil Arranger Digital Piano

88 Keys, Weighted

$599

14.4 x 53.7 x 5.4 in/ 27.1 lbs
Beginner
5. Kurzweil Arranger Digital Piano with 88-Note Hammer Action
The Kurzweil Arranger digital piano has an 88-note weighted hammer action keyboard that includes touch sensitivity. Considered to be the best Kurzweil digital piano for this affordable price, it includes 20 inspiring factory presets of a number of instrument selections, including but not limited to organs, strings, guitars, and more.
This Kurzweil Arranger has 50 auto-accompaniment styles, left-hand chords create real-time arrangements, and the unique triggering built-in interactive patterns come in a variety of musical genres. The entire digital piano is housed in an attractive stage piano-style cabinet.
Kurzweil proposes a model with detachable music stand that makes use of a built-in 4-speaker sound system. The sleek Arranger has an intuitive control panel with a clear display for providing users quick access to the system functions.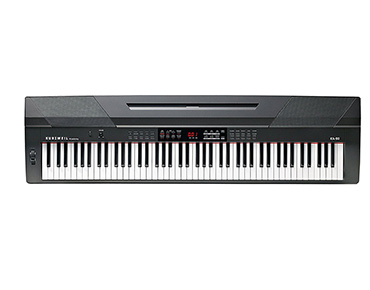 | Pro | Con |
| --- | --- |
| 50 auto-accompaniment styles for creating real-time arrangements. | It doesn't have a rhythm section if you're playing auto accompaniment. |
| Simple control panel offers easy access to all system functions. | If not playing for 10 minutes, this digital piano automatic shuts down. |
| 88-note fully-weighted hammer action keyboard. |   |
4. Kurzweil MP15 Student & Teacher Digital Piano in Rosewood
If you are looking to take your entry-level Kurzweil digital piano one step further, this is the device you want to add to your arsenal. This version of the digital piano has an easier to read use control panel, larger preset sound pallet, and makes use of 64 of Kurzweil's innovative four-zone multi-instrument set-ups.
This Kurzweil digital piano has an upgraded four-speaker sound system and a user interface that's clear blue with a 16-character LCD. Such a digital piano makes use of 16 dedicated sound and setup buttons, quick access to favorite sounds, and a two-track song sequencer that simply lets you record two parts separately.
Basically, it can record the left and right-hand parts independently. or record both parts of a duet accompanying yourself. Also included in the Kurzweil's professional library, eight best acoustic pianos, twenty-four orchestral instruments, eight classic electric pianos, eight organs, sixteen guitars, sixteen synth and lead sounds, and sixteen drum kits.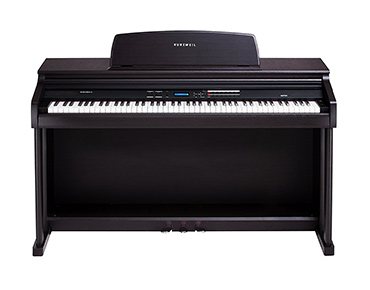 | Pro | Con |
| --- | --- |
| Easy access to navigation board. | The wood is actually MDF with a Rosewood finish. |
| Lots of sounds to choose from and easy to implement. | At 125 pounds, it is difficult to move from home to stage. |
| Feel of 88 hammer action keyboard is nothing short of an acoustic piano. |   |
---
Bonus Read: Best synthesizers to buy 
---
3. Kurzweil MPS10 88-Key Portable Home Digital Piano with Hammer Action
Are you searching the market for an affordable digital piano with countless advanced features? The best Kurzweil digital piano for the money is the MPS10 model, featuring 88 sounds and performance from the highly acclaimed PC3 series.
This Kurzweil digital piano comes with 10 world-class acoustic pianos, 24 celebrated vintage electric pianos, solo and orchestral instruments, all reproduced in stunning high quality. Some of the choices include vocals, guitar, bass, choirs, and drums.
Another amazing feature of the digital piano is the 78 rhythm backgrounds that can be stored to one of the three different favorite preset buttons. This model even comes complete with an easy-play sequencer that makes recording a breeze with the added convenience of storing 9 songs to the MPS10 presets.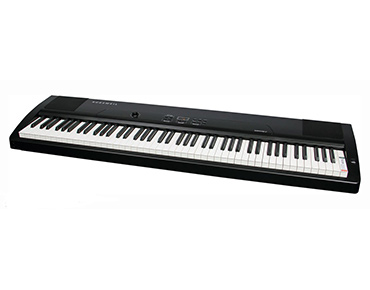 | Pro | Con |
| --- | --- |
| Includes 88 expressive sounds such as a triple strike grand piano. | Matching furniture style stand is sold separately. |
| 10 selectable response levels. | When listening through system speakers, the piano loses sound quality. |
| One-touch recallable favorites provide instant access to customized selections. |   |
2. Kurzweil ARTIS Digital Piano with 88-Key Stage
This Kurzweil digital piano is the perfect all-in-one machine you'll ever need to produce astonishing sounds at high-quality. The Kurzweil ARTIS digital piano has an 88-note hammer, 128-voice polyphony, and a very user-friendly interface.
This stage piano has simply raised the bar to compatible models, incorporating a damper pedal noise that produces the most realistic experience. This digital piano has 9 drawbar sliders, performance control switches, 256 factory programs, and extensive MIDI control. The diverse sound selection tool has program/multi and direct category sound selection, 10 dedicated front-panel buttons, and a 1-button recall.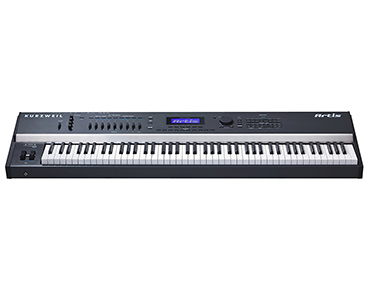 | Pro | Con |
| --- | --- |
| The sounds are absolutely amazing and so smooth. | Chains cannot be edited, but auxiliary override chain can be selected in multimode. |
| The weighted keys simulate the same feel of a real piano. | Nearly 50 pounds in weight makes it difficult to transport. |
| You can fine tune any sound while you play. |   |
1. Kurzweil Forte 88 Key Stage Digital Piano with Sample and FlashPlay
Definitely on the high end for a Kurzweil digital piano, you can expect all the top of the line features when you step up and purchase the Forte model. This is one of the most advanced digital keyboards, complete with the 88-key fully-weighted hammer action that enables access to 16 GB of memory.
Diverse instruments are all recorded in ultra-high definition, big, and bright color LCD display, and a wide selection of sounds from PC3 and KORE 64 expansion. The 16 GB sample content has zero-loading time, which means heaping amounts of DSP with ultra-fast performance.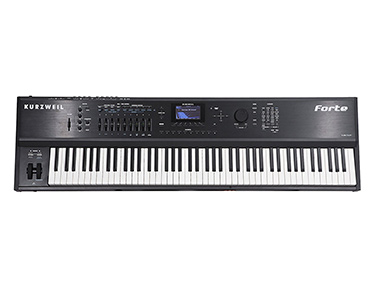 | Pro | Con |
| --- | --- |
| Exceptional tonewheel organ with 3 or 4 presets. | At 48 pounds, this is one of the heavier digital pianos. |
| Huge informative screen with multiple views. | Velocity mapping needs tweaking to match individual needs. |
| The layout and utility of the deck are near perfect. |   |
Final Thoughts
Whether beginner or expert stage performer, Kurzweil makes a digital piano that will suit all your unique needs. If you are a fan of Kurzweil and have a model you rave about, please take a moment to share your experience here with our readers.
Last update on 2022-07-01 / Affiliate links / Images from Amazon Product Advertising API