This list will help you discover the best Roland digital piano of the year. Each piano is rated by its price, functionality, and recommended uses. Though Roland is known mainly for their synthesizers and keyboard technology, the brand offers a lot to those in search of a digital piano. In fact, some of their best offerings, like the Juno-DS88, are compatible both as pianos and synthesizers.
Our Top 5 Roland Digital Pianos of 2018
Before covering our detailed list of the seven best Roland digital pianos, this table briefly describes our top five recommendations.
Piano Model
No. & type of keys
Price  
Dimensions & weight
Best for
Roland Juno-DS61
61 Keys, Semi-Weighted
$$
39.5 x 11.75 x 4 in, 11 lbs
Synth Enthusiasts
Roland VR-09
61 Keys, Weighted
$$$
39.7 x 11.8 x 4.2, 12 lbs

Organists

Roland Juno-DS88
 

88 Keys, Weighted

$$$
55.75 x 13.4x 5.6 inches, 35 lbs
Synth Enthusiasts
Roland FP-30

88 Keys, Weighted

$$
51.2 x 11.9 x 5.9 inches, 31 lbs
Stage Musicians
Roland F-140R

88 Keys, Weighted

$$$$
53.75 x 30.5 x 13.5 inches, 76 lbs
Experienced Pianists
7. Roland GO61PC
The Roland G061PC is a popular choice for music classrooms across the world. The device is small and portable, and it stands as an affordable option for piano beginners. Though most will look to upgrade to a full-sized instrument, this is the best Roland digital piano for picking up the instrument. The piano usually ships in a bundle with additional equipment, and it's an inclusive option for getting started.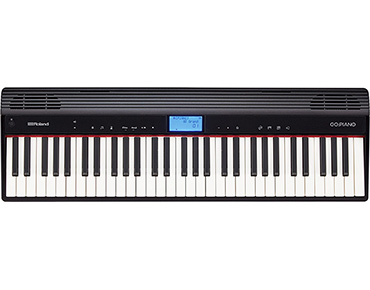 | Pro | Con |
| --- | --- |
| Affordable. | Poor internal speakers. |
| High-quality materials. | Limited range of voices. |
6. Roland GO61K
Roland's GO61K is similar to the GO61PC, but it ships with a wide range of additional features. Instead of including the bundled peripherals of the G061PC's educational package, the device includes Roland's famous loop creator and sampler. On top of that, you'll also get a library of over 500 voices. For many, this will be a perfect entry point to the world of Roland equipment. If not for its 61-key span, this device could be rated a lot higher.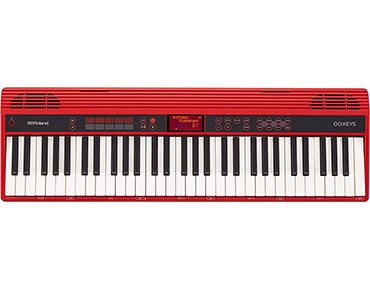 | Pro | Con |
| --- | --- |
| Vast sample library. | Poor internal speakers. |
| Advanced looping technology. | Incompatible with certain audio software. |
| Affordable. |   |
5. Roland Juno-DS61
The Juno-DS61 isn't the most popular model of the Juno synthesizer in 2018. Nonetheless, it's still a powerhouse in its own right. Unlike its full-sized counterpart, the DS61 is a more portable device that's perfect for touring musicians.
The instrument also holds up surprisingly well as a digital piano. That's because its piano samples are better than one might expect from an industry-leading synthesizer. In some cases, however, the full-sized Juno will be worth the additional cost.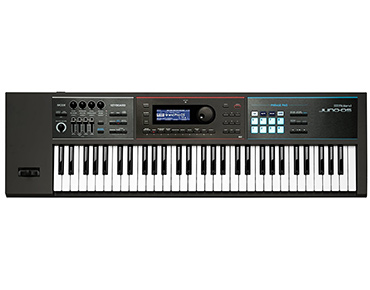 | Pro | Con |
| --- | --- |
| Surprisingly robust piano samples. | Expensive for a 61-key device. |
| Portable and lightweight. | Lacks the character of a full-featured digital piano. |
| A vast sample library with many additional features. |   |
4. Roland VR-09
Many people know the VR-09 as an organ. However, recent models of the device include a wider range of functionality. In 2018, the VR-09 is an impressive device for a digital piano experience. Because of its audio synthesis capabilities, the VR-09 sits at an expensive $1,000 tag.
Roland has diminished the device's exclusivity as an organ simulator. Nonetheless, anyone hoping for high-quality organ sounds can do no better than the VR-09.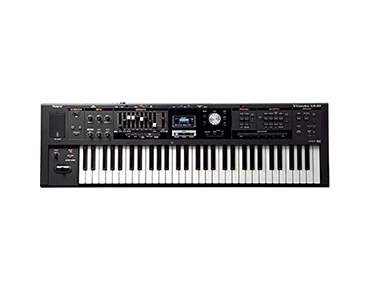 | Pro | Con |
| --- | --- |
| Portable and lightweight. | Only 61 keys. |
| Impressive library and audio synthesis features. | Other devices in the price range are more suitable for a realistic piano experience. |
3. Roland Juno-DS88
The Juno-DS88 is a leading keyboard for traveling musicians requiring a versatile kit of piano and synthesizer samples. The machine features an immense range of customization options, and some consider it the best Roland digital piano.
As with other Roland instruments, the device's only shortcoming is that it doesn't simulate the realistic piano experience as well as other offerings in the price range. There's a reason the JUNO-DS88 has been around for as long as it has. Users love its versatility and lightness.

| Pro | Con |
| --- | --- |
| Extremely versatile library of pianos and samples. | Not ideal for the concert pianist. |
| Unparalleled customization options. | Bulky and heavy. |
| Weighted keys make it a unique synthesizer. |   |
---
Bonus Read: Best cheap digital pianos
---
2. Roland FP-30
Roland's FP-30 is the first traditional digital piano on this list. The instrument is renowned for its ability to recreate the feeling of an acoustic piano in a very lightweight package.
Its weighted keys and high-quality sample library are among the best in the price range. For those requiring realism and portability, the FP-30 may be the best Roland digital piano. It's a great instrument for beginners and experts alike.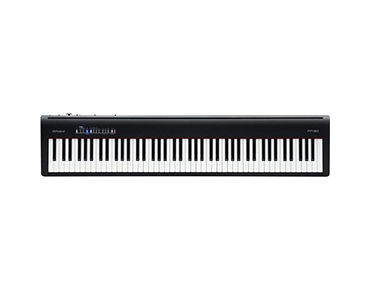 | Pro | Con |
| --- | --- |
| Ultra-portable for a full-sized piano. | Fragile build. |
| Very realistic keys and sound libraries. | Lack of built-in sound customization. |
| Affordable. |   |
1. Roland F-140R
For those pianists in search of realism, the F-140R is the best Roland digital piano. With the F-140R, Roland competes with the likes of Yamaha in selling a device equipped with the subtle features for concert play.
With high-quality pedals, realistic keys and a stylish matte finish, the F-140R is the best Roland digital piano — and one of the best pianos in the $1,200 price range. In fact, the instrument's biggest shortcoming is the marketing plan surrounding it. Not many players consider Roland as a premier option for realistic digital pianos.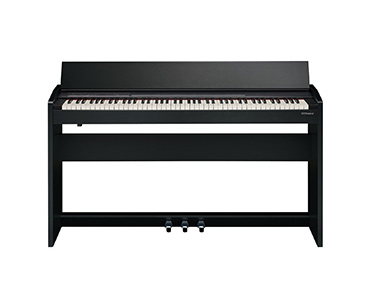 | Pro | Con |
| --- | --- |
| Ultra-realistic keys. | Older model that may get outdated in the near future. |
| High-quality samples and sounds. |   |
| Reasonable price for the quality. |   |
Conclusion
This list will give keyboardists of all skill levels an accurate overview for selecting the best Roland digital piano. Though Roland is known mainly for their synthesizers and audio equipment, their instruments provide a great entry point to the digital piano experience. The F-140R is the best Roland digital piano, but others are strong choices in specialized ways.
Last update on 2022-07-01 / Affiliate links / Images from Amazon Product Advertising API