If you are looking for the best stage piano with speakers, it is essential to find one that sounds good and which plays accurately. We have researched various models and found seven options. Our ratings are based on how many tones are available, the accuracy of the sound replication, and the price of the keyboard. We also took into account user ratings to ensure we only highlighted models that real players enjoy.
Our Top 5 Best Stage Piano With Speakers of the Year
This short table will detail the five best models on our list and include detailed information on why they are the best choices for your purchase.
Piano Model
No. & type of keys
Price  
Dimensions & weight
Best for
Casio Privia PX160BK
   88 Keys
$
11.5 by 52 by 5 inches/ 24.5 pounds
Professionals
Yamaha P255

88 Keys

$$
59.9 by 18.8 by 10.6 inches/ 38 pounds
Practice and Performance
Kawai ES110
 

88 Keys

$$
51.6 by 11.3 by 5.7 inches/ 26.5 pounds
Accurate piano sounds
Casio SA76

44 Keys

$
23.8 by 2.2 by 8.3 inches/ 3.6 pounds
Beginners on a tight budget
Korg SP280BK

88 Keys

$$
61.6 by 18.9 by 11.1 inches/ 57 pounds
Real stage performances
7. Alesis Recital PRO
This electronic keyboard has 88 keys and built-in 20W speakers that produce a diverse range of different sounds. You can find in this model 12 different voices, including electronic pianos, acoustic models, and even harpsichords. The touch is decent, though the keys are a little bouncy at times.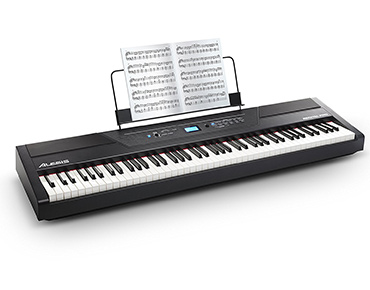 | Pro | Con |
| --- | --- |
| Inexpensive. | Bouncy keys. |
| Includes the full range of keys. | Low range of tones. |
| Lightweight and compact design. |   |
We recommend this as the best stage piano with speakers for beginners who want an inexpensive model that sounds reasonably close to the instruments that it is emulating.
6. Yamaha CP300 Stage Piano
These Yamaha's keys are weighted differently depending on their location. Such a design creates a more accurate and easy-to-play feel. Other features include sample manipulation options, such as attack, decay, and sustain. There are also pitch control knobs that allow you to play microtonal music.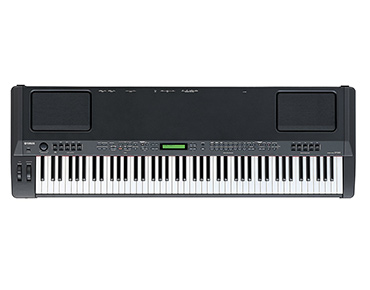 | Pro | Con |
| --- | --- |
| Tones are very accurate. | Very pricey compared to others on this list. |
| A diverse array of playing options. | Distorted tone at high volumes may be off-putting. |
| Includes sustain pedal. |   |
The high price of this model may deter some users, but we think it is the best stage piano with speakers for serious players who plan on making a career out of on-stage playing.
5. Korg SP280BK 88-Key Digital Piano with Speaker
Users who want a diverse array of tones will find that this is the best stage piano with speakers for their needs. It comes with 30 different accurate voices, including various synthesizer tones.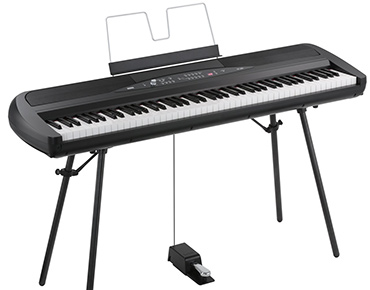 | Pro | Con |
| --- | --- |
| Many different tones. | Keys aren't weighted accurately to a real piano. |
| Light and easy to transport. | Speakers may blow out at high volumes. |
| Speakers are very loud. |   |
Those who want a diverse and easy-to-understand stage piano should consider this model. It is adaptable enough for pros but simple enough for beginners.
4. Casio SA76 44 Mini Sized Keys
This mini-piano is the best stage piano with speakers for those who don't want to spend a lot of money. It contains about 100 different tones, 50 rhythms, and many built-in songs. While it lacks the touch sensitivity common with other models, its tonal variety makes it an interesting secondary choice.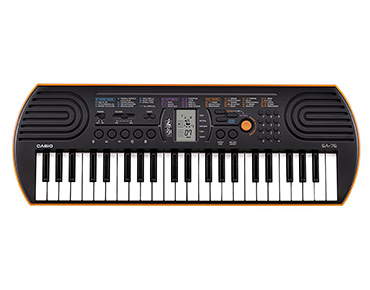 | Pro | Con |
| --- | --- |
| Easily the least expensive model on our list. | Rather small compared to other models. |
| Includes 100 different tones. | Tones aren't as good as other models. |
| Contains various rhythms for easier practice. |   |
This model is a good choice for someone who wants an inexpensive stage piano that is still diverse and powerful enough for real performance situations.
Bonus Read: Best piano benches
3. Kawai ES110 Portable Digital Piano
This 88-key keyboard is the best stage piano with speakers for those who want an accurate acoustic sound. That's because it uses harmonic imaging to create some of the most accurate sounds on the market. Impressively, it includes polyphonic keyboard splitting that allows up to 192 simultaneous tones. The keys are also weighted very accurate when compared to real pianos.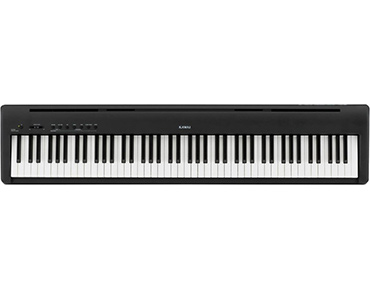 | Pro | Con |
| --- | --- |
| Expansive sound library. | A little hefty compared to other models. |
| Accurate play feel. | Electric tones are a little lacking. |
| Nearly flawless grand piano sound. |   |
Those who want one of the most accurate grand piano sounds on the market should buy this keyboard. Though its control methods may be confusing at first, it can be mastered by both professionals and beginners.
2. 
Yamaha P255 88-Key Professional Weighted Action Digital Piano
This Yamaha piano is also close to being the best stage piano with speakers for those who want an accurate acoustic sound. That's because it recreates a concert grand piano sound almost flawlessly. On top of that, the weighted keys allow you to adjust the volume and intensity of your playing very accurately. Even better, they are built with synthetic ivory to recreate the feel and look of a real grand piano.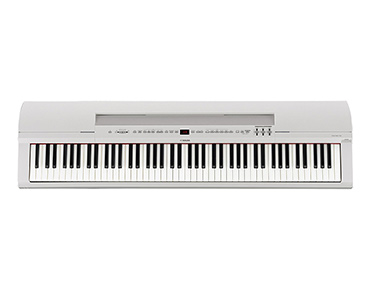 | Pro | Con |
| --- | --- |
| P-255 controller app lets you practice on your phone. | The price may be a bit high. |
| EQ sliders can adjust your sound. | Accessories are costly. |
| The most accurate acoustic sound on the market. |   |
Anyone who wants a keyboard that can work as both a practice and a performance model should try this keyboard. Its diverse array of tones and accurate playing make it fun to play.
1. Casio Privia PX160BK 88-Key Full Size Digital Piano
Our choice for the best stage piano with speakers is this mid-priced 88-key model. We chose it thanks to its tonal variety, tone quality, and playing accuracy which are the best on the market. It also has a high-quality speaker system that makes it easy to hear yourself while you play.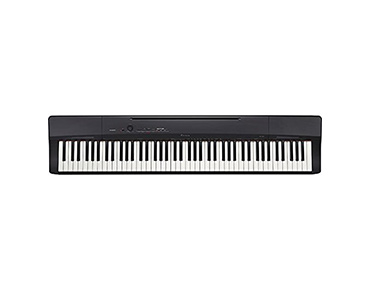 | Pro | Con |
| --- | --- |
| Weighted keys are the most accurate we could find. | Keys may make extra noises when played. |
| The price is very fair. |   |
| Contains chorus and reverb options to change your tone. |   |
Honestly, we think just about any player will enjoy this keyboard. It can be used either as a pure practice model or as equipment for stage for some of the most accurate piano sounds on the market.
Conclusion
By now, you should know which of these models is the best stage piano with speakers for your needs. You'll fully understand what each has to offer and what makes them worth your consideration. Therefore, please don't hesitate to share this article with friends who are looking for a piano. You can also drop a line if you have an opinion on any of these items. We always love hearing from our readers.
Last update on 2022-07-01 / Affiliate links / Images from Amazon Product Advertising API