In this article, we will take you through a close inspection of the Casio CTK 2400 61-key portable keyboard to examine and showcase all its points. After discussing its most important features and its specifications, we will step back and summarize all its characteristics as well as its less desirable aspects. To this balanced perspective, we will add an investigation of the reactions of users. If you want to know all about the Casio CTK 2400, read on.
Casio CTK 2400 61-Key Portable Keyboard – Main Features
The Casio CTK 2400 61-key portable keyboard is an excellent starter keyboard. With an impressive list of 400 tones, 150 rhythms, 100 preset songs, and 26 effects, the possibilities of this keyboard are almost unlimited.
Perfect for students, it has a step up lesson feature as well as the ability to replay portions of the preset songs to facilitate learning. A particularly exciting aspect is the sampling feature, which allows you to record sounds which you can then play on the keyboard.
Running on batteries or using an AC adapter, the Casio CTK 2400 boasts the ability to connect to computers, headphones, amplifiers, and other devices. It has a convenient automatic shut-off as well, which helps to make efficient use of the power supply.
Casio CTK 2400 Piano Specifications
General
Width: 40 inches/ 101.6 centimeters
Height: 6 inches/ 5.24 centimeters
Depth: 16 inches/ 40.64 centimeters
Weight: 11.5 pounds
Keyboard: Semi-weighted
Keys: 61
Key Size: Standard
Key Style: Piano
Musical Features
Tones: 400
Preset songs: 110
Rhythms: 150
Polyphony: 48 maximum, 24 (some tones)
Reverberation: Yes
Effects: 26
Transpose Function: Yes
Pitch Modulation: No
Tuning Function: Yes
Auto Accompaniment: Rhythm, bass, harmony
Tempo Control: Yes
Other Features
Speakers: Yes
LCD Display: Yes
Metronome: Yes
Sampling: Yes
Recording/Playback: No
Built-in Microphone: Yes
Step Up Lessons: Right hand, left hand, both hands
Pause: Yes
Skip Forward: Yes
Skip Back: Yes
Accessories
AC Adapter: No
Batteries: No
Music Stand: Yes
Stool: No
Piano Stand: No
Others: Song book
Warranty
Parts and Labor Warranty: 1 year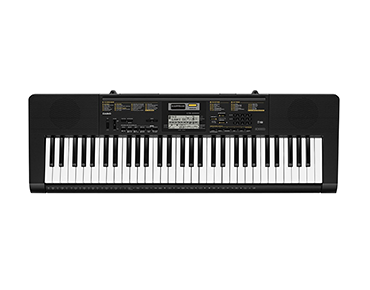 | Pro | Con |
| --- | --- |
| The Casio CTK 2400 61-key portable keyboard has an extremely extensive library of sounds and offers a vast range of capabilities to the player. Whether you are seeking accompaniment, preset music, or variations on your own playing, you can find it with this keyboard. | Unfortunately, the Casio CTK 2400 lacks sufficient keys to make up a full piano keyboard. Usually, a professional piano has 88 keys. Therefore, Casio CTK 2400′ 61 keys leave a gap which can impede the playing of some songs. |
| The Casio CTK 2400 is excellent for students. It has built-in lessons, which it breaks down for the left hand, the right hand, and both hands. It also helps to master the preset songs by allowing repetition of measures, again splitting up the hands if desired. | Unfortunately, the Casio CTK 2400 does not come with its own power source. The AC adapter and the batteries require a separate purchase. |
| This keyboard allows you to record your own sounds to play on the keyboard, which is a definite advantage to the creative artist. | This keyboard fails to reproduce the true piano sound. To some, this may not be a problem since they may be purchasing it for the variety of tones and options it offers. However, for those seeking an authentic piano experience, this may not be ideal. |
| The various jack plugs are a decisive point in favor of this keyboard, as they permit both quiet play through the use of headphones and amplified sound through external devices. | The keys are only semi-weighted. In other words, this keyboard lacks the true acoustic piano touch. This can affect playing, not only in the relative volumes but also in the musical effect |
| It also allows connection to a computer for use with music software. |   |
Users' Impressions
A large number of users were impressed with the Casio CTK 2400 61-key portable keyboard. They found the sampling feature to work excellently, and they enjoyed all the different sounds the keyboard offers.
There was also copious praise for it as a student keyboard because of its size, general capabilities and, especially, the included lessons. Likewise, users appreciated it for its ease of use, both on its own and with a computer.
On the other hand, many people objected to the sound as "tinny" and disliked the keys because they are not touch-sensitive. There were also several complaints about malfunctions occurring soon after the first use. Another problem was that many people could not get the headphone jack to recognize their headphones. One solution coming from a Casio owner was to purchase an adapter to achieve any positive results.
Conclusion
The Casio CTK 2400 61-key portable keyboard, although not a full-blown digital piano, still offers extensive possibilities, making it an exciting and fun member of the Casio keyboard family. If you yourself have any experience with or thoughts about the Casio CTK 2400, please share them with us in the comments below.
https://digitalpianoexpert.org/best-digital-piano-advanced/
Last update on 2022-07-01 / Affiliate links / Images from Amazon Product Advertising API