The purpose of our article is to serve as a comprehensive review of the Casio Privia PX 750
digital piano
. In our article, we're going to look closely at several important features like sound quality, style, and overall performance. In addition, we're going to summarize the most common points we found in both negative and positive user reviews. By the end of the article, we will offer a summary of our findings to help you make a purchasing decision.
Casio Privia PX 750 Digital Piano – Main Features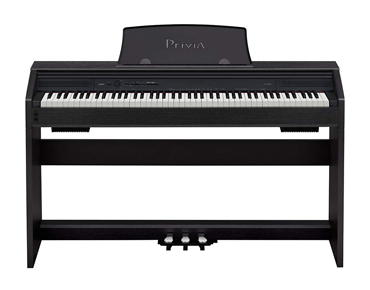 Look and Style
One of the areas where the Casio Privia PX 750 digital piano really shines is in its look and style. The three color choices that this keyboard comes in are black, white, and brown. The most popular choice is definitely the black version due to its classic style. Nonetheless, the other two choices are still viable options that are suitable for a wide range of room decor types.
Upon closer inspection, one of the first things that you will notice is that this keyboard is built to resemble a typical piano in many ways. Along the top of the keyboard, there is a built-in stand that has the purpose to hold your sheet music. At the bottom of the Casio Privia PX 750 digital piano is where you will find three pedals as well. All three of these pedals are fully functioning and are used to control features like note volume and sustain.
Another area that the company spent a lot of time designing is the look and feel of the keys themselves. The white keys are textured to resemble traditional ivory closely. Overall, this creates a much more authentic look and feel that users will likely appreciate.
Key Response
One of the things that we feel that the Casio Privia PX 750 digital piano really shines with is in its key response system. Most other similar electronic keyboards use a system known as graded soft touch or GTS for short. These systems utilize rubberized stoppers to help provide varying levels of resistance to create a more natural feel that better resembles traditional piano types.
By comparison, this keyboard takes it a step further and utilizes a proprietary tri-sensor scaled action hammer system. This provides improved touch sensitivity and feedback to allow for more natural volume control. Ultimately, this is a feature that is very important for users who want to transition back and forth to a traditional piano with little to no adjustment on their part.
---
Bonus Read: Yamaha P115 digital piano review
---
Class Compliant MIDI Technology
Many of you will likely want to use your new keyboard with a wide range of digital music programs. Thankfully, this is another area where the Casio Privia PX 750 digital piano excels. This keyboard utilizes class compliant MIDI technology. This means that there are no specialized drivers to download for most computers.
All you have to do is simply connect the keyboard via an appropriate USB cable to your Windows or Mac computer. Once it's recognized on your device, you're ready to start recording songs and creating your own sheet music with compatible software.
| Pro | Con |
| --- | --- |
| Touch Sensitivity: Compared to models that use GTS technology, this electronic piano offers a great deal more touch sensitivity and control. | Portability: Weighing in at over 70 pounds, this electronic piano is not really built for portability. |
| Device Compatibility: Thanks to its full MIDI compliance, this digital piano is fully compatible with most modern Windows and Mac computers. | Instrument Selection: One of the biggest things to keep in mind is that this electronic piano does not support additional instrument choices. Users who are looking for these types of options will want to stick with another electronic keyboard model. |
| Style Choices: One of the best things about this electronic piano is that it comes in three beautiful style choices. | LCD Display: The lack of an LCD display is a bit disappointing. Instead, this model utilizes analog dials and switches to select various settings. |
| Polyphony Count: This electronic piano supports an impressive 128-count polyphony rating. This greatly expands the range of pieces that you can play on it successfully. |   |
| Improved Sound Quality: Utilizing its AiR processing technology, this electronic piano creates notes that sound beautiful and pure. |   |
Users' Impressions
Users seem to be fairly happy with the performance of their new PX 750. One of the things that users seem to really be impressed with is its sound quality. Many of the reviews that praise the sound quality come from users who are transitioning to a smaller house and had to make the switch to an electronic piano from a traditional one. This bodes well for the piano's performance and quality.
People also seem to love how easy the piano is to assemble and operate. Most users appear to have been able to successfully put together the piano by themselves. On the other hand, there are a few negative points users mentioned as well.
One complaint has to deal with the piano's finish. Users have complained that it's a bit too thin and chips easily. Keep this in mind when storing it to avoid damaging the exterior of the unit. Another issue that users have mentioned is how heavy the piano is. For some users, it may be too difficult to move around on their own.
Conclusion
Overall, we feel that the Casio Privia PX 750 digital piano has a lot to offer the right person. It delivers both impressive sound quality and several attractive finish options to choose from. Just keep in mind that this is an electronic piano only and not a traditional electronic keyboard. For those of you who have had the chance to try this piano out already, we would love to hear about your experiences with it in the comments area.
Last update on 2022-07-01 / Affiliate links / Images from Amazon Product Advertising API