In this article, we will discuss the topic of how to record digital piano from various points of view. We will elaborate on the three main device options, namely computer, Mac, or iPad. Finally, we will offer the universal alternative that works with any type of operating system and keyboard, which is the recording software Audacity.
Recording on a Computer
Have you been wondering how to record digital piano on a computer? The true question here is whether you want to stick to the Musical Instrument Data Interface format, or MIDI for short, or want authentic audio. The former is the simpler alternative, as most keyboards come with a dedicated port for this, regardless of their year of fabrication.
Even if your digital piano doesn't have MIDI output, adapters are affordable and readily available on the market. For the latter alternative, you have to make use of the instrument's line level output. Check its manual or instruction booklet to find the port labeled as 'Aux Out' or 'Line Out'. Here is where you connect the audio interface.
The audio interface is a type of mixer that mediates the sounds that come out of an instrument and send them to the computer or tablet you are using. Plug its input cables into the outputs on the keyboard. If your digital piano doesn't have a line output labeled as such, use the one for headphones. It will get the job done just as well.
Recording on a Mac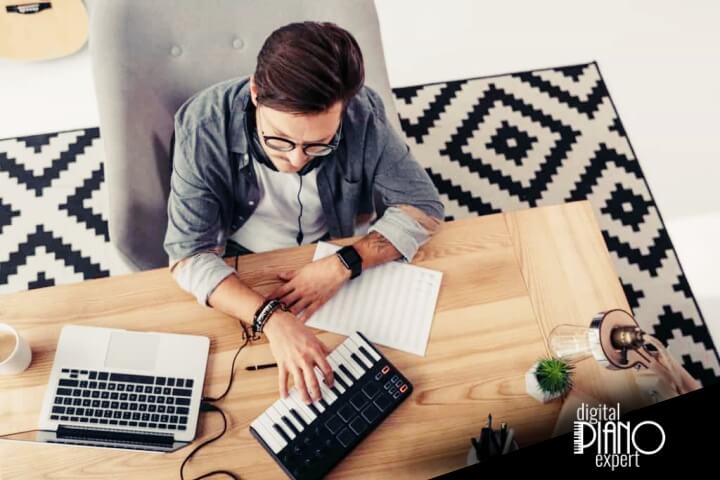 Fortunately for Apple users, recording digital piano on a personal device doesn't end with computers. There are ways to perform the process on iOS as well. If you've ever been wondering how to record digital piano on a Mac, the answer is GarageBand. What's appealing about it is that it comes built into your computer as part of the iLife Suite.
There are two options for this, and they vary in complexity. The most basic thing you can do to record digital piano sounds on a Mac computer is turn its keyboard into your very own virtual instrument. To start, create a New Project file with the program and create an empty one. Select the piano as your desired Software Instrument in GarageBand and enable musical typing.
Now the keys on your Mac will correspond with those on a piano, and you can play and record it. However, you can also connect a digital piano to the computer and utilize the Musical Instrument Digital Interface, to transfer the notes you play on it directly into the software. Thus, your Mac will function as a synthesizer of sorts.
The most appealing thing about this is that you won't need to install an additional driver for the Mac to recognize your digital piano. GarageBand does that automatically, and you can use the same process mentioned above to play your songs and record them. Afterward, you can also edit the tune and integrate other instrument sounds on it.
Recording on an iPad
While we're on the topic of Apple devices, it's also essential to find out how to record digital piano on an iPad. The tablet doesn't come with integrated software as a Mac does, which is why you will need to make ends meet by yourself. However, it is the best choice in terms of portability, and thus you can take your tiny studio along with you anytime you need it.
First of all, you will need an iPad robust and modern enough to support this activity. The 4th generation tablet with Retina display is the ideal option when you're on a budget. However, if you are willing to invest in your passion for music, the latest iPad Air is what you should get. Next, consider the interface that will process your piano sounds.
The standard way to go is with a class compliant USB-compatible keyboard that can connect to the iPad without additional drivers, ports, or adapters. This will aid you record your digital piano in a MIDI format, much like GarageBand would. However, MIDI isn't concrete sound. The only way to capture this is with a microphone, but this comes with issues of its own.
Hooking up a microphone to your iPad and recording audio tracks of your keyboard means that background noise becomes a problem. Therefore, you will also need to create an indoor studio of sorts and isolate the room as much as possible. Purchasing a compatible audio interface is one way around this, but remember that it will only work with your tablet.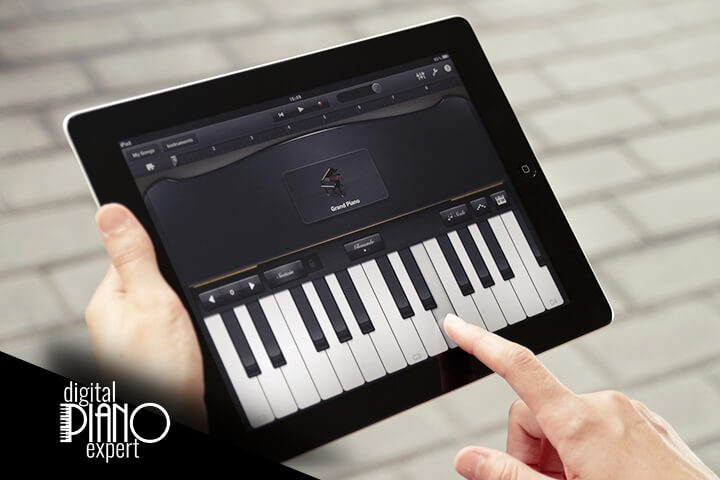 Recording with Audacity
At the end of the day, Audacity is the ultimate answer to how to record digital piano on any electronic device. It is a free and open-source program compatible with both Windows and macOS, and it works with Unix-like operating systems as well. The software records audio and post-processes it too, which makes it the perfect all-around tool for musicians.
The discussion on how to record digital piano in Audacity should start with the type of keyboard you have at home. Earlier models aren't usually compatible with the software, as they lack the audio function on their USB. The ports merely exchange MIDI data without the possibility to actually log it into the program.
If that is your situation and you don't want to invest in a new digital piano, you will have to use a mixer to mediate the process. Members of the official Audacity forum suggest the Behringer UCA-202, a controller that not only records audio, but also allows you to hear it while you play and perform high-quality overdubbing on the track.
Nonetheless, modern digital pianos come with both MIDI connections and USB audio, which means that Audacity should recognize the instrument off the bat. If you are having trouble with this in spite of your console's configuration, check your device's Control Panel or System Preferences. Is the keyboard recognized as a driver on there?
Seeing as you are having difficulties, it most likely isn't. This means that something is broken at the level of the connection. It might a faulty cable, or a more serious malfunction overall. Diagnose and troubleshoot it accordingly before trying to record.
The Bottom Line
Audacity is generally regarded as the answer to the question of how to record digital piano on any electronic device. Nevertheless, there are more options to look into. For example, Mac computers come with a MIDI-capable software integrated into the iLife Suite of apps, namely GarageBand. In the end, it all depends on what your needs and preferences as a musician are.