The primary goal of this article is to serve as a comprehensive review of the Korg Monotron. Starting by covering the main features of the product, we will then progress to the main pros and cons. We will also summarize the main points found in user reviews and include a link to an informative YouTube video as well. By the end of the article, we will summarize our findings on the product.
Korg Monotron – Main Features
The Build
As soon as you get a chance to hold the Korg Monotron yourself, the first thing you will notice is how compact the design is. With a weight of just over six ounces, this synthesizer is one of the smallest products we have had the pleasure of reviewing.
The device measures a mere 6.4 by 9.2 inches in length. For comparison, it fits comfortably in one hand for most adult users. Overall, we feel that this small design is one of the best features that this product has. The ability to carry your own pocket synthesizer is perfect for budding DJs who are looking for a way to transport their gear to gigs effectively.
However, there are some people who will complain that the unit is too small for serious work. This will vary based on your individual preferences. While some users may want to opt for a larger synthesizer, we feel that the Korg Monotron is perfect for its small size.
---
Bonus Read: Best digital pianos under $500
---
Outputs
Given its small build, you would probably not expect the Korg Monotron to support multiple output options. However, you will be pleasantly surprised to find that there are multiple options on the back of the unit.
Starting on the left is where you will find the standard headphone jack. Perfect for listening to your mixes in private, this is a feature that many users love. Next to the headphone jack is where you will find an auxiliary connection. This is ideal for users who want to opt for a higher quality external speaker for use at public venues and other large gatherings. The one downside is that there isn't a MIDI option. However, this is a small tradeoff given how portable the product is.
Speaker Quality
The Korg Monotron has a relatively powerful built-in speaker. For a smaller room, this speaker is more than adequate for blasting your mixes and enjoying the product with friends. We found that it does an admirable job broadcasting both high and low notes with little to no distortion. As for other audio issues like crackling, we didn't encounter any during our research.
However, you should keep in mind that the sound quality of the speaker is not designed to be used in larger rooms. Users who try this without an external speaker system will likely find that the sound output is far too weak for others to enjoy. Nonetheless, the auxiliary jack on the back makes it easy to connect to a wide range of external devices.
Power Source
As far as the power source goes, the Korg Monotron gets its energy from two AAA batteries. The manufacturer states that the average battery life is approximately eight hours. However, this will vary slightly based on a wide range of factors including the volume output level and any standby time that is used.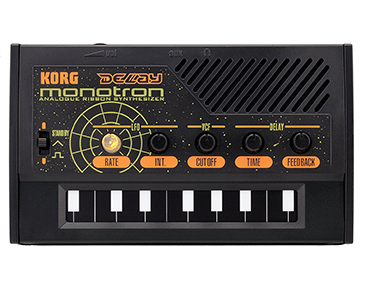 | Pro | Con |
| --- | --- |
| Super compact design is perfect for on the go enjoyment. | Keys are a bit too small for many users. |
| External jacks for headphones and auxiliary audio conveniently located on the back. | No standard wall outlet power option for continuous operation. |
| Controls are very easy to understand and use. | Does not support MIDI connections. |
| Supports multiple delay options. |   |
| Given its size, the internal speaker is quite powerful. |   |
Users' Impressions
Users have had a lot to say about their experiences with the Korg Monotron. We're going to start with the positive points that most users can agree on. One of the main things that users love is the portable nature of the product. With its long battery life and lightweight design, it's perfect for taking to new venues.
Another positive point that users seem to like is that the learning curve for this product is relatively small. Unlike more complicated options, this product is suitable for beginners who are just starting to mix their own music.
However, there were a few negative comments as well. The one that we saw the most is that some users feel that the unit is far too small for professional use. On the other hand, this is also seen as one of the best things about this product by other users. Just keep in mind that the keys are pretty close together before investing in it. A good tip to consider is that a stylus can help with the small keys and the condensed layout.
Featured Video
If you're eager to see the Korg Monotron in action, consider checking out this YouTube video from the manufacturer. The narrator does a great job explaining the various features and showing users what the product has to offer.
Conclusion
With its compact design and simple layout, the Korg Monotron is a perfect option for both beginner DJs and users who just want to stick with a more compact product. We also love how long the battery life is and that it features an external audio jack. Once you have had the chance to try it out for yourself, we would love for you to share your experience with us in the comments area.
Last update on 2022-07-01 / Affiliate links / Images from Amazon Product Advertising API