The purpose of our article is to serve as an in-depth Korg SP 170S
digital piano
review. We're going to examine several key features like the electronic piano's performance, the supported
instrument types
, and any relevant pros and cons that our editors found. In addition, we will also summarize users' opinions to help you get a better understanding of what this digital piano has to offer.
Korg SP 170S Digital Piano – Main Features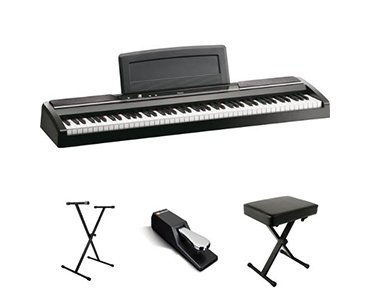 Touch and Feel
One of the areas that the Korg SP 170S digital piano really delivers is in the touch and feel of the keys themselves. This electronic piano utilizes NH technology, also known as Natural Weighted Hammer. This provides a more firm feel at the lower octaves that get progressively lighter to the touch as you go up in range.
For users who are more accustomed to traditional pianos, this will create a more natural feel that eases the transition between the two types of piano. It also makes this piano an ideal learning aid for at home practicing for beginner users as well.
Instrument Selections
While not offering nearly as many instrument choices as a traditional electronic keyboard, the Korg SP 170S digital piano still offers a moderate level of versatility in terms of instrument selection. With ten different instruments to choose from, users can easily experiment with the sounds of harpsichords, string instruments, organs, and more.
Simple Control Interface
Another area that we feel that the Korg SP 170S digital piano really excels is in its simple control interface. This electronic piano utilizes only four different buttons on the top. The first switch is a simple toggle for the power. To the right of that is the volume control knob that is quite responsive as well.
Next is the Piano Play button that is used to instantly switch the electronic piano back to its default sound setting. The last button is used to switch between the other instrument types. You simply press the button each time you want to switch to a new instrument. All in all, the simple layout of this electronic piano makes it an excellent choice for youngsters and adults who are just looking for a more basic electronic piano layout.
---
Bonus Read: Best digital pianos with weighted keys 
---
Speaker Quality
The Korg SP 170S digital piano comes with two built-in oval speakers. The speakers are designed to provide exceptional sound quality in a wide range of listening environments. In addition, the piano structure is optimized to improve resonance and harmonics for an improved listening experience as well.
One of the things that we found really beneficial is that there are also dual headphone jacks available as well. Supporting a wide range of headphone types, this allows multiple users to listen in at the same time without disturbing others at home.
| Pro | Con |
| --- | --- |
| Simple Design: With the simple interface, this electronic piano is one of the easiest to control in its class. Suitable for children and adults, users should have no problems getting used to this piano. | Cost Effectiveness: Though we do like a lot of this electronic piano's features, we feel that the overall bang for the buck is somewhat limited with the higher than average purchase price. |
| Touch Sensitivity: One of the main issues people have with electronic pianos is that the keys lack the same touch sensitivity as traditional pianos. This product eliminates that with progressively less resistance as you go up in octaves.. | Instrument Selection: This electronic piano only comes with ten different sound choices. While enough to experiment a bit, more advanced users will likely want a product that offers more options to choose from. |
| Dual Headphone Jacks: With two separate headphone jacks, multiple users can listen in at the same time without disturbing the rest of the family during their practice session. | Recording Capability: Sadly, this electronic piano does not offer any recording capability on its own. Instead, it's mainly designed for practicing in the comfort of your own home. |
| Portability: With an overall assembled weight of fewer than 30 pounds, this piano is still quite maneuverable for most individuals. |   |
| Reverb Options: The Korg SP 170s digital piano comes with multiple reverb and chorus effects that help to enhance the piano's sound quality substantially. |   |
Users' Impressions
Overall, most users seem satisfied with the performance of their new Korg SP 170S digital piano. The biggest thing that new users seemed to love was the rich sound quality that this electronic piano had to offer. For many of the individuals, they were purchasing it as a training aid for their children.
Most users seemed also extremely happy with how easy they managed to set up and install the product. The one thing that most users pointed out is that you have to purchase the stand separately. While not necessarily a con, it's still an important factor to keep in mind before making a final purchasing decision.
As for complaints, the only issue we found is that a handful of users received a defective keyboard. Nonetheless, it appears that the manufacturer managed to fix this issue in a timely manner. In addition, the amount of reviews that reported this issue appear to be fairly limited. The only other complaint is that some users wished that there were more instrument sounds supported.
Conclusion
With all of our findings reviewed, the Korg SP 170S digital piano is an excellent choice for many reasons. One of the biggest is that the keys provide some of the most accurate touch sensitivity of any electronic keyboard we have reviewed. Besides, the simple design and user interface makes this a suitable choice for younger individuals as well. Those of you who have had the pleasure of trying this product out already, feel free to tell us about your experience in the comments.
Last update on 2022-07-01 / Affiliate links / Images from Amazon Product Advertising API