The goal of our article is to serve as a comprehensive Korg Volca Keys review. For those who are not aware, the Korg Volca Keys is an analog synthesizer that provides users with an affordable way to create their own mixes using various sounds. Our review will primarily focus on the main features of the product. We will also summarize the feedback that users have left on the product and list the main pros and cons as well.
Korg Volca Keys – Main Features
Exploring The Sound Options
The first and most important feature we're going to discuss in our Korg Volca Keys review is the wide range of sound options that it supports. If you look in the top left-hand corner of the device, you will notice that there is a control knob located there with various sound settings.
The options that you can select from here include poly, unison, octave, fifth, unison ring, and poly ring. This is going to be one of the main areas that you use to create interesting riffs and chord progressions with the device. Overall, we found the sound quality to be well above average and love the fact that the control knob is very easy to use.
Further to the right of the control knob is where you will find the various options for VCO, VCF, LFO, and EG. You can use these options to customize the sound output further to create some rather unique tones. Some examples of the features that you can control with these options include decay, sustain, and portamento.
Ultimately, we found that the range of tones that you can create with the device will stop only at the end of your imagination. While it does take a bit of practice first, the controls are fairly self-explanatory. Therefore, it shouldn't take too long to master their primary functions.
Recording Capabilities
The next part of our Korg Volca Keys review is going to focus on the recording capabilities of the product. If you look in the upper right-hand corner of the device, you will see a play, record, memory, and function section. These keys are easy to understand. Thanks to them, users can record brief snippets and play their music continuously.
For users who are looking for the perfect way to create background choruses, this feature is of particular importance. Above the recording section is where you can quickly control settings like tempo as well.
---
Bonus Read: Best Cheap Digital Pianos
---
Peripheral Compatibility
No Korg Volca Keys review would be complete without a section that discusses the peripheral compatibilities of the product. Located along the top right corner of the device is where you will find the various jacks and outlets that it supports.
Going from left to right, the ports you will find are a MIDI in, a sync in, a sync out, and a standard headphone jack. Overall, the jacks provide all of the standard things that you would expect in an analog sequencer. Our only complaint is that there isn't any MIDI out port.
Key Layout
When it is time to actually play a few notes on the Korg Volca Keys, most users should have no problems with the device. While it is a bit on the small side, the keys present themselves just like a standard piano or electronic keyboard.
One downside is that the keys are not weighted. This means that the tactile feedback is not anywhere near what you would expect from a standard piano. However, this is slightly offset by the small nature of the product that contributes to its improved portability.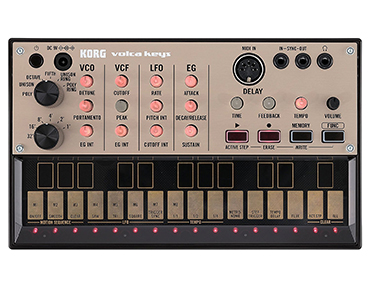 | Pro | Con |
| --- | --- |
| Sound quality is as impressive as what you would expect from more expensive units. | Getting used to the feel of the keys can take some time. |
| Compact design is lightweight enough to carry around without any issues. | A bit too small for users with larger hands. |
| Can be powered via battery or traditional wall outlet. | Does not support a MIDI out connection. |
| Controls are laid out in a way that is perfect for beginners and experienced users alike. | |
| Sync in and out supports linking multiple Volca instruments at once. | |
Users' Impressions
This portion of our Korg Volca Keys review is going to seek to summarize the main points users have made in their reviews. Starting with the positives, users seem to be content with the high-quality sound that this product produces. Another point users love is the portability of the product. The ability to run it via battery or a traditional electric outlet is a huge plus for many.
However, there were one or two negative points to consider as well. For many people, the lack of a MIDI out connection is a bit of a deal breaker. Another complaint that some users have is that the keyboard portion is too small. However, this small design is a big plus for many other users. Just keep this point in mind if you have a larger frame and are concerned about the keyboard layout.
Featured Video
If you're still eager to learn more after reading our Korg Volca Keys review, a great source of additional information is the official product video on YouTube. This video shows a user demonstrating the various sounds that you can make with the device. On top of that, it also briefly explains some of the control settings as well.
Conclusion
Based on the information we found while doing our research for our Korg Volca Keys review, we believe that the product is a great fit for many users. For starters, it features a compact design that is easy to use. We also love that it supports multiple power modes and is compatible with standard headphones as well. For those of you who have already had the chance to try it out for yourself, feel free to share your experiences in the comments section.
Last update on 2022-07-01 / Affiliate links / Images from Amazon Product Advertising API