The primary purpose of this article is to serve as an in-depth review of the Williams Legato 88 key digital piano. In our review, we're going to look closely at several important features. We're also going to list the main pros and cons that we feel are most relevant to this product. After a recap of user opinions, we will offer a final verdict to help you with your purchasing decision.
Williams Legato 88 Key Digital Piano – Main Features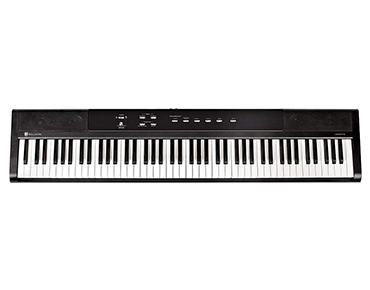 Semi-Weighted Key Design
One of the main things that aspiring pianists should focus on when picking a digital piano is the key design. With this in mind, the Williams Legato 88 key digital piano doesn't disappoint. It utilizes a semi-weighted key design that provides just the right amount of feedback and touch sensitivity. Ultimately, it's a great choice for transitioning seamlessly back and forth between a traditional piano and a digital one.
Multiple Bonus Features
One of the most exciting things about the Williams Legato 88 key digital piano is the wide assortment of bonus features that it includes. The first one that we're going to talk about is called split key functionality.
Split key functionality allows you to combine multiple sounds from the selection of five different supported instruments into one key. This allows users to create more interesting chord progressions and play a wider range of musical scores with just one device. Another nice feature worth mentioning is the built-in metronome functionality. With several tempo selections to choose from, it's a great training aid for mastering new pieces of music.
Power Supply Versatility
The power supply source is another big factor that you should take into account when picking your next digital piano. Fortunately, this is another area where the Williams Legato 88 key digital piano excels.
For truly on the go operation, you can choose to rely on D cell batteries. This product utilizes six at a time. As long as you're using high-quality batteries, the piano should last for several hours of continuous use. For more extended projects, you can also opt for the DC power charging cable instead. This allows you to keep playing whenever you have access to an electrical outlet.
---
Bonus Read:  Best digital pianos under 1000 dollars
---
Simple Design
Though this electronic piano does lack some of the fancier bells and whistles you will find on premium models, the simplistic design offers a lot of positives as well. At the top left and right corner of the keyboard is where you will find the modest speakers. While being relatively small, they still manage to produce a rich sound that carries well in small to medium-sized rooms.
Towards the center is where you will find the various controls. Sadly, there is no LCD display. Instead, this electronic piano opts for a simple push-button layout. All of the controls are clearly labeled and are very easy to understand. This makes this product an excellent choice for both children and adults.
| Pro | Con |
| --- | --- |
| Ease of Use: With only a few basic controls to master, the Williams Legato 88 key digital piano is an excellent choice for both senior and young users. | Instrument Selection: Sadly, the Williams Legato 88 key digital piano only has five different instrument selections to choose from. This is significantly less than some of the other available choices. |
| Power Adapter Included: Unlike many of the other electronic pianos we have reviewed, this model includes a power adapter for continuous operation wherever an electrical outlet is available. | Lack of LCD Display: Although an LCD display isn't a dealbreaker, it still would have added a bit of modern flair to the design and made it a lot easier to see what settings you have selected. |
| Portability: One of the best things about this electronic keyboard is how portable it is. When fully assembled, it weighs less than 20 pounds. Moreover, it is just small enough to fit comfortably in most small and mid-sized vehicles. | Volume Level: The volume level of this electronic piano is more than sufficient for small and medium rooms. However, this quickly changes for larger venues where the speakers simply don't have enough power to perform adequately. |
| Exciting Combinations: Thanks to the split key functionality, you can easily combine multiple instrument types and bind them to a single key. | |
Users' Impressions
For the most part, users seem to be fairly happy with what the Williams Legato 88 key digital piano has to offer. One of the things that many of the positive reviews have in common is that users are quite happy with how easy the electronic piano is to set up and operate. Overall, the learning curve appears to be quite low while most users adapt very quickly to the simple control interface.
Another thing that users seem to be happy with is the included metronome. Many individuals have stated that it was the perfect gift for people who are interested in learning how to play on their own. However, there were a few complaints that users have as well.
One of the biggest complaints has to deal with the poor speaker performance in large rooms. That is why we stressed that this product is best suited for smaller areas where the volume output isn't as big of an issue. The other complaint some users have had is that they wish the product offered more instrument choices. However, this is offset by the low purchase price of the product.
Conclusion
After much thought and consideration, we feel that the Williams Legato 88 key electronic piano has a lot to offer the right user. One of the best things about this keyboard is its simplistic design. We also like that it includes a built-in metronome that is ideal for new users who are just beginning to play the piano. If you have already had the chance to try out this particular product, we would love for you to share your thoughts and experiences in the comments area for others to read.
Last update on 2022-07-01 / Affiliate links / Images from Amazon Product Advertising API