In this article, we will demonstrate exactly what it is about the Yamaha DGX 660 digital piano that makes it so prominent. We will begin with a description of its most impressive features and then will weigh the positive aspects of this piano against any possible negative characteristics it may have. After a discussion of the impressions of a range of users, you should be able to form your own balanced judgment of this particular instrument. Continue reading to learn all about the Yamaha DGX 660 digital piano.
The Yamaha DGX 660 Digital Piano – Main Features
The Yamaha DGX 660 digital piano is similar to an acoustic grand piano not only in sound, which was recorded from the Yamaha CFIIIS 9-foot concert grand, but also in the touch of the keys. Like an acoustic piano, the lower keys of the Yamaha DGX 660 keyboard require a heavier touch while the higher keys require a lighter touch.
Unlike an acoustic piano, however, this digital piano allows you to select which kind of piano you will play and in what sort of room, changing the effects accordingly. In addition, it has not only the exciting ability to connect to a microphone, but it also offers band accompaniment, song recording, and even lessons.
Yamaha DGX 660 Digital Piano Specifications
General
Width: 55 inches (139.7 centimeters)
Height: 5.75 inches (14.61 centimeters)/30 inches (76.2 centimeters) with stand
Depth: 17.5 inches (44.45 centimeters)
Weight: 46 pounds 5 ounces/61 pounds 12 ounces with stand
Keyboard: Graded Hammer Standard
Keys: 88
Key Size: Standard
Key Style: Piano
Power, Connectivity, and Memory
Power: AC adapter
Connectivity: USB/MIDI
USB Connectivity: 1 to device, 1 to host
Headphone jacks: 1
Pedal inputs: 1
Microphone Jack: 1
AUX Input: 1
Automatic Shut-Off: Yes
Internal Memory: 1.7 MB
External Drive: USB Flash
Sound Features
Tones: 151 plus 15 Drum/SFX Kits plus 388 XGLite
Preset songs: 100
Accompaniment styles: 205
Music Database: 320
One Touch Setting: Yes
Smart Chord: Yes
Style Recommender: Yes
Polyphony: 192
Damper Resonance: Yes
Reverberation: 41 types
Chorus: 44 types
Intelligent Acoustic Control: Yes
Panel Sustain: Yes
Pitch Bend: Yes
Tempo Control: Yes
Other Functions: Dual, Split, Transpose, Tuning
Other Features
LCD Display: Yes
Speakers: Yes
Metronome: Yes
Recording/Playback: Yes
Lesson Guide: Yes
Included Accessories
AC adapter: Depends on area where sold
Music Stand: Yes
Stool: No
Piano stand: Yes
Warranty
Warranty: 3 years, limited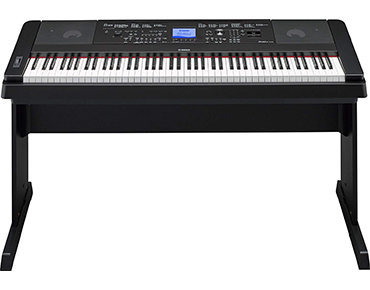 | Pro | Con |
| --- | --- |
| The sound of the Yamaha DGX 660 is as nearly authentic to an acoustic grand piano as possible. Careful sampling has reproduced the sound of one of Yamaha's famous concert grand pianos. In addition, damper resonance mimics the complexity of the acoustic piano's tone. | This piano has so many features that it is complicated to use. It requires much manipulation of the buttons to perform different actions. This could easily discourage some people from using it. |
| The graded hammer standard keyboard is ideal for teaching and learning piano. Its touch closely mimics that of an acoustic piano, which helps to properly develop muscles and technique while playing. | In spite of all its features, it does not have a sampling feature. While this may seem a minor point, such a gap could be viewed as a defect, as some competitors do have this feature. |
| The Yamaha DGX 660 is perfect for singing along with. After attaching a microphone to the piano through the designated jack, you can adjust the settings of the microphone and choose a performance situation. | The Yamaha DGX 660 digital piano may or may not come with a power cord, depending on the seller's location. The necessity for an extra purchase can be frustrating and may deter some purchasers from choosing this particular piano. |
| The ability to store recorded songs on a USB flash drive allows the creation of a large library of recordings as well as eases transfer to a computer. | |
Users' Impressions
Most users were thrilled with the Yamaha DGX 660. They praised the sound as authentic and rich and the touch of the keys as perfect. Users also appreciated the clarity and strength of the speakers. As for the features, several people remarked positively on the versatility of the instrument and said they enjoyed using its different functions.
On the other hand, though pleased with all the features and options this digital piano offers, several users commented that it was difficult to master the use of them. Some users in particular pointed out how complicated this instrument is and objected to how many buttons it is necessary to push in order to perform simple functions. A number of people objected to the sound the keys themselves make when depressed, and a few labeled some of the notes as "tinny."
Featured Video
Playing the Yamaha DGX 660 digital piano is an experience full of possibilities. In this video, Yamaha showcases all that its instrument can do.

Conclusion
The Yamaha DGX 660 digital piano is a beautiful and versatile instrument which any level of musician can enjoy. If you are familiar with this piano or have any reflections on our observations, please share your thoughts and insight with us below.
Last update on 2022-07-01 / Affiliate links / Images from Amazon Product Advertising API