Yamaha is a brand that's synonymous with high-end digital pianos. The P115 Digital Piano model is one that holds up their high-quality standards. In this review, the specifics of the Yamaha P115 Digital Piano will be examined. First, we'll discuss the various features that make this a sought-after product. As we continue, we will also explore the pros and cons of investing in such equipment.
For any musician or aspiring musician, this review will serve as an excellent guide for whether or not you should purchase this digital piano. Let's start digesting the overview of such a fine Yamaha product!
Yamaha P115 Digital Piano – Main Features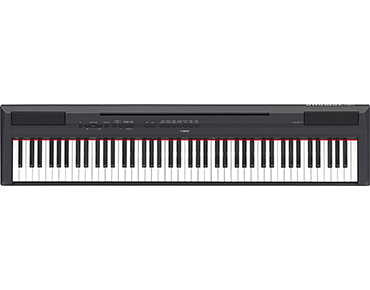 The Yamaha P115 Digital Piano provides you with the experience of playing the piano, but one that's enhanced through various technological attributes. It has 88-keys, both black and white, with all the necessary octaves to play on.
Thanks to the
Graded Hammer Standard (GHS)
weighted action, you can adapt to an acoustic piano seamlessly after practice on the Yamaha P115 Digital Piano. The
sound
is also of incredibly high-quality. With the
Pure CF Sound Engine
, you can sound like you're playing at a grand piano made by Yamaha.
Excellent Model to Practice for Other Instruments
The line between digital and analog will become further blurred when you hear how strong these notes sound as you play.
Practicing with this digital piano
can make you a stronger musician in a number of ways. Not only will you be able to improve your ability to play melodies and chords, but you'll also be able to learn how to better play with others.
For instance, there are built-in rhythms which will let you try all sorts of genres of drumming. As you play along with these, you can fit your style of piano-playing in accordingly. If you're looking for something to do with your smartphone, download the "Digital Piano Controller" app. With this app, you can control various aspects of your Yamaha P115 Digital Piano and save different settings.
Additional Specs
There's a great deal to learn about music by sitting down at the Yamaha P115 Digital Piano and tinkering with all the various features, from the app to the provided sustain pedal. Here are some other aspects of this digital piano.
Dimensions: 58.2 x 16.1 x 11.8 inches
Weight: 26 pounds
Keyboard: Yamaha P115 Digital Piano
Speakers: Built-in
Connectors: AUX ­Out jacks, USB port
Power Supply: PA150 Power Supply
Metronome: Built-in
---
Bonus Read: Best Yamaha Digital Pianos
---
| Pro | Con |
| --- | --- |
| People who play on this keyboard love how the weighted keys feel genuine in terms of replicating an analog piano. Those who are looking to get into playing piano in a multitude of environments would be smart to look into this particular keyboard based on how it trains the fingers. | At 26 pounds, the Yamaha P115 Digital Piano isn't incredibly bulky, but it does have some weight to it. Be mindful of this and you shouldn't have any real frustrations with it. Be careful when transporting it and placing it down on any surfaces. Put it down gently to prevent any sort of physical damage to it. |
| The talent and discipline of the pianist is the most important part of making their music sound good. It's also important for the sound quality of the piano to be strong. With the Yamaha P115 Digital Piano model, you can have a piano that strongly replicates classic piano and other musical voices, such as harpsichord. | Some customers have reported issues with single keys on this digital piano. For instance, a single key might be shorted out or not deliver the same sound quality as the ones around it. Make sure that you test out all the keys upon purchase to ensure that they all work together. |
| It's hard to imagine becoming bored with this digital piano. Thanks to the different elements, from the built-in rhythms, multiple voices, and dedicated app, you can get the most out of using the Yamaha P115 Digital Piano. Take the time to really appreciate and learn about each part of this keyboard. | With a full set of 88 keys, this is an ideal digital piano for anyone who is serious about playing piano and wanting to learn it to the fullest extent. On the other hand, for those who are more casual, it might be more than they're needing. If that sounds like you, consider going for one that is smaller. |
| You can add the accompaniment part all by yourself for an authentic and rich musical performance. The incorporated 10 Piano Styles allow you to enrich your moment with your left hand while your right hand plays the primary partition. |   |
Users' Impressions
Those who purchased the Yamaha P115 Digital Piano were impressed by how strong the sound quality was. Many remarked on the quality of the tones that came out of this digital piano. Another positive aspect for many were the keys. Thanks to their quality weightlessness, it really feels like playing a genuine classical piano. The metronomes and built-in rhythms are cited as a fun way to learn how to keep rhythm.
On the negative side of this, some were bothered by the issues with the keys shorting out. Others found that the speakers could have been better manufactured. Though the sound was praised, that quality seemed to falter when headphones for digital piano were used while playing.
Another expressed concern was about user-friendliness. Several customers found that it wasn't particularly intuitive. On top of that, the instruction manual didn't provide enough in the way of help. While this digital piano is strongly recommended, these are all understandable concerns.
Conclusion
We hope that this article has given you a strong understanding of the Yamaha P115 Digital Piano and its strengths. If you have purchased or are interested in purchasing this product, we encourage you to let you know what you enjoy about it or what qualities mentioned in this article are encouraging you to acquire it. Any other advice for users is also greatly welcomed.
Last update on 2022-07-01 / Affiliate links / Images from Amazon Product Advertising API