The Yamaha YPG-235 has earned its place as one of the best entry-level keyboards for new users. Our article is going to function as an in-depth Yamaha YPG-235 76-key portable grand piano keyboard review. We will be focusing on several important technical factors and review elements from both negative and positive user reviews.
Yamaha YPG-235 76-Key Portable Grand Piano Keyboard Main Features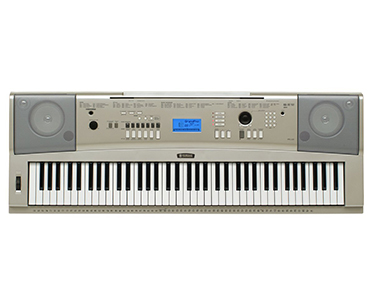 Layout and Style
The first part of our Yamaha YPG-235 76-key portable grand piano keyboard review is going to focus on its layout and style primarily. As soon as you look at this keyboard, you will notice that it follows a very similar layout to other comparable models. Along the top of the keyboard is where you will find virtually all of the controls.
One thing we really love about this keyboard is that it utilizes an oversized LCD display in the center with a blue backlight. This is perfect for quickly and easily checking on what instrument settings you are using with just a quick glance. We also love that they incorporated a number keypad on the right-hand side to make switching to specific instrument choices easier as well.
As far as the layout goes for the additional controls, things like the volume dial and other song settings are located to the left and right of the LCD display. In addition, all of the instrument choices are listed up top for easy reference. All in all, new users will find this keyboard to be quite comfortable to use with a minimal learning curve level.
External Device Compatibility and Internal Storage
In this portion of our Yamaha YPG-235 76-key portable grand piano keyboard review, we're going to look at the types of devices that the keyboard is compatible with. One of the best things about this keyboard is that it's fully compatible with the Yamaha Education Suite program. This program is designed to help new users learn to play the piano and get the most out of their new keyboard.
The piano comes with 30 built-in songs already preloaded onto the internal storage. Once you've mastered those songs, you can connect the keyboard to your computer and download additional songs via a USB connection. This greatly expands the educational capabilities of the keyboard and allows it to grow with the user.
---
Bonus Read: Best Yamaha digital pianos
---
Power Sources
The last feature section of our Yamaha YPG-235 76-key portable grand piano keyboard review is going to look closely at the two power sources that the keyboard supports. For on the go fun, the keyboard can be operated via AA batteries. The manufacturer recommends using polaroid batteries for best results.
We found that the battery life was okay for most users. However, the best results were achieved by using the PA150 power adapter. Unfortunately, this power adapter is sold separately. Nonetheless, we strongly recommend that users who plan to use this keyboard for extended periods invest in this accessory for best results and performance.
| Pro | Con |
| --- | --- |
| Affordable: With a medium price point level, this keyboard is a suitable choice for both beginner and intermediate users. | Power Adapter: One of the biggest downsides we found with this keyboard is that the power adapter is a separate purchase. |
| Lightweight Design: The Yamaha YPG-235 weighs under 20 pounds by itself. This makes it one of the better options in terms of portability and convenience. | GST Technology: For those who are not aware, GST provides a limited degree of touch sensitivity. However, this technology is inferior to the resistance level that full weighted keys provide. |
| Polyphony Count: This keyboard has a 32 polyphony voice count. For users who are not familiar with this term, this means this keyboard can support up to 32 simultaneous sounds. | Bulky Design: Though we admired how lightweight the design is, it's also a bit on the bulky side. Make sure you have plenty of space to accommodate this keyboard and any additional items like speakers. |
| Pedal Compatibility: One of the nicest things about the YPG-235 is that it's compatible with pedals for improved sustain control. |   |
| Sound Quality: Even when using the two built-in speakers, users will be delighted by the rich and bold sound quality that this keyboard produces. |   |
Users' Impressions
No Yamaha YPG-235 76-key portable grand piano keyboard review would be complete without a section that focuses on both positive and negative user impressions. One of the main points that positive reviews seem to focus on is how great this keyboard is for educational purposes. With a wide range of songs to choose from and adaptive learning tools, it's a great stand-alone option or companion training aid.
Another factor that users seem to be quite satisfied with is the keyboard's simple operation. All of the controls are laid out in such a way that they are very easy to understand. When making instrument changes, all you have to do is take a quick look at the top of the keyboard and input the corresponding number to select your desired instrument pick.
On the other hand, we did also discover one area where the keyboard seemed to fail users as well. The biggest issue users complained about was that the power supply adapter is not present in the digital piano box. Therefore, they have to purchase this essential piece separately. Another less common complaint is that some users feel that the keyboard design is not as portable as they would have liked. This is likely due to the keyboard's dimensions as opposed to its weight.
Conclusion
Based on our findings in our Yamaha YPG-235 76-key portable grand piano keyboard review, we feel that this keyboard is an excellent choice for both new and experienced users alike. For starters, it comes with several learning tools that are perfect for new users. If you're a more advanced user, you will likely love the varied instrument choices and the ability to sample multiple instruments at once. For those of you who have already tried this keyboard out, feel free to share your thoughts with us in the comments section.
Last update on 2022-07-01 / Affiliate links / Images from Amazon Product Advertising API