The digital pianos that are available today run from affordable to extremely costly. Just because the best cheap digital piano is affordable does not mean it isn't of good quality or built to last. The following list of digital pianos were all chosen based on affordability, quality, and user reviews.
Our Top 5 Best Cheap Digital Pianos
While there are numerous models out there created by the latest standards in the musical industry, there is a handful that can easily detach themselves from the rest. Our top 5 recommendations represent their market niche in all respects. They offer an incredible price-quality ratio and are worth your consideration. Let's see how this top looks like!
Piano Model
No. & type of keys
Price  
Dimensions & weight
Best for
Yamaha 76-Key Digital Piano with Stand

76 Keys, Non-Weighted

$299

50.3 x 10.6 x 22 inches/ 32 lbs.

Beginners

Yamaha 88-Key Weighted Action Digital Piano

88 Keys,Weighted

$499

11.5 x 52.25 x 6 inches/


36.4 lbs.

Beginners

Casio Privia 88-Key Full-Size Digital Piano
 

88 Keys, Weighted

$499

11.5 x 52 x 5.5 inches/ 24.5 lbs

Beginner

Korg 88-Key Digital Piano with Stand and Bench

88 Keys, Weighted

$599

58 x 17.6 x 11.8 inches/ 70.8 lbs

Beginner -Intermediate

Casio Privia Digital Piano with Furniture Bench

88 Keys, Weighted

$649

60 x 23 x 17 in/ 98 lbs

Beginner
7. Alesis 88-Key Beginner Digital Piano with Weighted Keys
The Alexis 88-key digital piano has semi-weighted keys and built-in speakers. This full-featured digital piano makes it easy to teach, learn, and perform at any skill level. The keys have adjustable sensitivity to fit any playing style, includes built-in effects, so you're playing right out of the box.
Moreover, it includes a power adapter or can go mobile running on six batteries. The lesson mode separates keyboard into two areas with the same voice and pitch and voice. Such a digital piano also comes with USB-MIDI connectivity, a sustain pedal input, and RCA stereo output.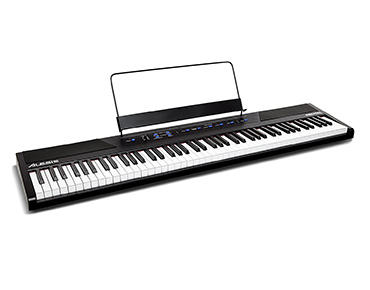 | Pro | Con |
| --- | --- |
| Full-sized weighted keys with adjustable touch response. | High synthesizer sustains instead of a piano sound. |
| Lesson mode divides keyboard into 2 areas with same pitch and voice. | Low notes emanate from the left side of the digital piano. |
| Stereo auxiliary outputs for connecting to amp, mixer, or sound different system. |   |
6. Flychord Console Home Digital Piano with 88 Hammer Keys
The Flychord company has been creating incredible responsive pianos for over 60 years. This digital piano offers true tone and sound at an affordable price for beginner and experienced players. Fully weighted hammer action keyboard has 3 pedals to help bring you that authentic piano touch you're looking for.
Now you have access to countless voices and sounds, helping to provide a professional and natural playing experience with endless possibilities. Split the keyboard into two section, making your lesson very easy and interesting.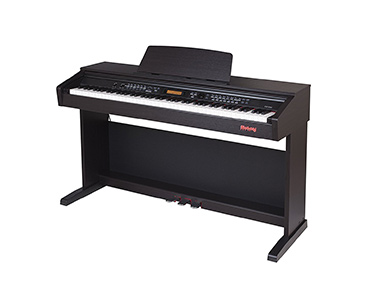 | Pro | Con |
| --- | --- |
| USB MIDI connection allows easy access to MP3, computer, and CD player. | Assembly required. |
| Access to 500 voices, 128 polyphony, 200 styles, and 60 preset songs. | Larger than other digital pianos. |
| Offers true sound and tone at an affordable price. |   |
5. Casio Privia Digital Piano with Furniture Bench
The Casio Privia digital piano is great for players of various skill levels. This model features unique technology that is pioneered by the industry-leading piano brands. The acoustic and intelligent resonator gives the best cheap digital piano authentic grand piano sounds with seamless dynamics that produces remarkably powerful performances.
This 88-key digital piano has smooth ebony and ivory keys, a variety of features including duet mode, and headphone output jacks for silent practice. On top of that, you'll also get split and layer capabilities.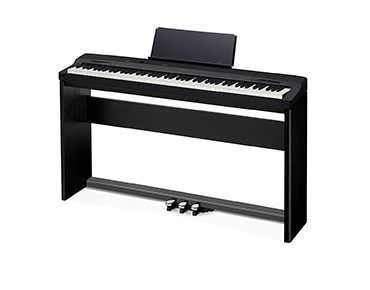 | Pro | Con |
| --- | --- |
| Two headphone outputs on front. | Very difficult to put together for some. |
| String ensemble and electric piano tones. | May take long to assemble. |
| Includes everything you need to start playing right out of the box. |   |
4. Korg 88-Key Digital Piano with Stand and Bench
The Korg digital piano is designed for beginner and veteran players of all level experience. This model is considered the best cheap digital piano because of realistic sound reproduction paired with full-range speakers.
Weighted keys simulate resistance and can emulate the sound of a classic grand piano. Korg presents a model that can simulate seven instruments, including harpsichord and organs. This package includes three-pedal unit to recreate the same range of sounds any acoustic piano is capable of.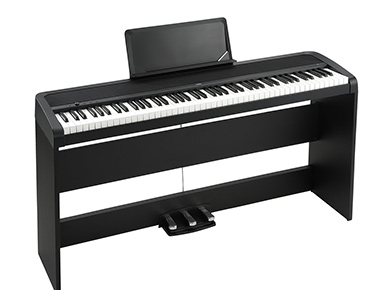 | Pro | Con |
| --- | --- |
| Has 88 weighted hammer action keyboard keys. | No assembly instructions for the bench. |
| Built-in stereo sound system with MFB Servo technology. | The headphone jack is behind the piano. |
| 8 digitally sampled sounds with 120 voices. |   |
---
Bonus Read: Best piano benches
---
3. Casio Privia 88-Key Full-Size Digital Piano
This Casio 88-key digital piano has a powerful speaker system that provides exceptional sound quality whether practicing at home or connecting to an external speaker and playing on stage. The pure functions that are being created by the best cheap digital piano include 18 different authentic tones that sound even better than expected. The multi-dimensional AiR sound generation can compete with much more costly digital pianos.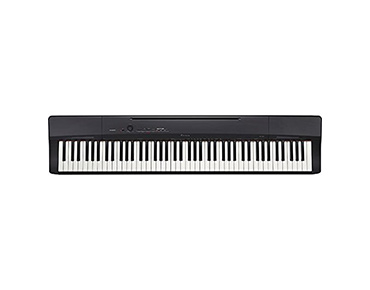 | Pro | Con |
| --- | --- |
| Sound quality is exceptional for a digital piano. | Sustain pedal in the box is not piano style. |
| For a lightweight, portable keyboard, keys have terrific action. | Some individual keys couldn't be played fast. |
| Easy to plug and play right out of the box. |   |
2. Yamaha 88-Key Weighted Action Digital Piano
Why is the Yamaha 88-key considered to be the best cheap digital piano? You can find the answer in its special weighted action. This is heavier towards the low ends and lighter as you get to the high ends. This digital piano can create natural instrument sounds that are all in stereo.
The 64-note polyphony gives the player the ability to perform dense piano passages, even with the heavy sustain pedal, with only a couple notes being cut off. Dual-mode allows you to easily combine two of the voices together, like strings and piano, creating a whole new playing experience.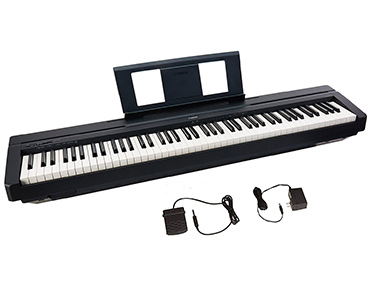 | Pro | Con |
| --- | --- |
| Excellent for the aspiring pianist. | Heavier base notes can be quite muddy. |
| Creates a deeper, richer, and spacious sound. | Some high note keys could be inaudible. |
| Matte finish of black keys is less slippery when playing for extended periods. |   |
1. Yamaha 76-Key Digital Piano with Stand
The Yamaha 76-key digital piano produces a great sound in either bright or grand piano voices. This is by far the best cheap digital piano that has incredible voices, strings, guitars, and organs. The speakers are especially loud while the voice dial adds a unique element to the sound experience. Equipped with hundreds of different electronic features, this digital piano has a solid stand and quality headphones.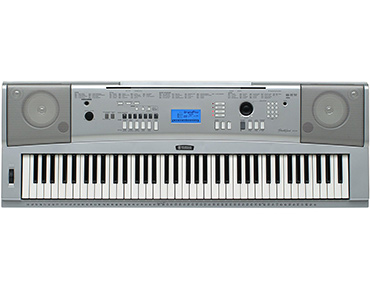 | Pro | Con |
| --- | --- |
| Special mode of fingering known as Full Keyboard Mode allows player to play keyboard like a piano. | Does not have weighted keys. |
| Port on each speaker adds an impact to reproduction. | Slight static when playing some instrument voices. |
| Delivers amazingly realistic sound. |   |
Final Thoughts
Although these are some of the more affordable digital pianos available, now you see why they are also considered some of the best. If you are already using a digital piano that is in the lower price ranges, please share your experience here so we can pass on that information to our readers.
Last update on 2022-07-01 / Affiliate links / Images from Amazon Product Advertising API