The
goal
of this article is to serve as an in-depth Yamaha PSR E253 review that will focus on several key features. We will also cover the main pros and cons of the product before moving onto a summary of users' reviews. By the end of the article, we will summarize our research and offer a final buying recommendation for the product.
Yamaha PSR E253 – Main Features
The Keys
The first part of our Yamaha PSR E253 review is going to focus on key design. With a total key count of 61, this product offers plenty of different octave selections. Therefore, this is an excellent choice for duos to play together as well.
One thing we noticed about the keys from the very beginning is that they are not weighted at all. This can be particularly useful for users with joint conditions like arthritis who prefer a softer touch. However, this does make it much easier to accidentally press down on the wrong key as you move your hands.
We do love that the keys are all full-sized. While we wish that the keyboard utilized a semi-weighted design for a more realistic feel, the full-sized key design can still be particularly useful for new pianists who are just beginning to learn.
Sound Quality
We're also going to focus on sound quality and the available instrument selections in our Yamaha PSR E253 review as well. If you look in the top left and right corners of the piano, you will find the two internal speakers.
Based on our testing, the speakers were more than capable of projecting sound effectively in both small and medium rooms. In larger venues, though, the speakers proved not to be quite as effective as we had hoped. Just keep that point in mind before deciding on the product.
We also loved that there is an audio in jack located on the rear of the keyboard. Users can take advantage of this to  play audio from external devices over the internal speakers. When connecting to an MP3 player, it does a decent job broadcasting sound with little to no distortion.
Instrument Selections
However, the thing we loved most about the E253 series is the wide selection of instrument selections. From cymbals to synthesized voices, this keyboard offers some of the largest selections of audio options we have encountered. The total count on the manufacturer page states that the keyboard offers 385 different instruments and voices to choose from.
When it comes to accompaniments, controls for instruments like cymbals and drums are conveniently illustrated above various keys. This makes it really easy to find your favorite accompaniment and activate it with the press of a button.
---
Bonus Read: Yamaha YPG-235 76-Key Portable Grand Piano Keyboard Review
---
Educational Tools
The last set of features we are going to discuss in our Yamaha PSR E253 review are the educational tools that it offers. For starters, the keyboard has a unique option called Duo Mode. Using this feature, the keyboard gets divided in half and allows users to play simultaneously together. We found that it's the perfect tool for students and teachers to practice difficult pieces of music together.
Besides the Duo Mode, the keyboard also offers a nine-step lesson plan. The plans are divided into three for the left hand, three for the right, and three for both. For users who do not have the luxury of having a dedicated teacher, it's the perfect companion for understanding the basics of proper hand positioning and fingering technique.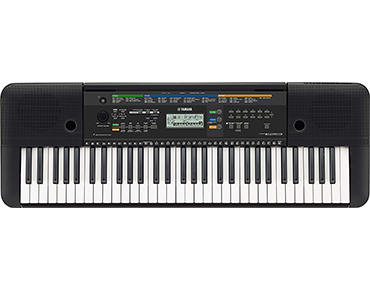 | Pro | Con |
| --- | --- |
| Audio in jack supports broadcasting external audio media via the built-in speakers. | Adjusting to the non-weighted key design can take some time. |
| Duo Mode and the nine-step training plan are perfect for beginners. | The power adapter is sold separately. |
| Can be powered via battery or traditional wall outlet. | Audio output is not loud enough for larger room sizes |
| Keys are full-sized and are easy to use. |   |
| Supports 385 different voice and instrument options. |   |
Users' Impressions
In this portion of our Yamaha PSR E253 review, we're going to be summarizing the main points we found in user reviews for the product. Starting with the positives, users seem to be quite happy with the wide selection of instrument choices that the product has. The fact that the accompaniment instrument symbols are located just above the keys is a huge benefit for many people.
Another point that users seem to love are the educational tools that the product provides. From Duo Mode to the included lesson plans, the product is a perfect match for beginner and intermediate pianists.
However, there are a few negative points as well. One of the biggest complaints users have is that they have to make an extra purchase to own the power adapter as well. Another issue is the relatively lackluster volume level that you will encounter in a larger room.
Featured Video
For those of you who want to learn a bit more about what the keyboard has to offer, Yamaha has an excellent YouTube video to watch. The video showcases the main features of the product and lets you get an up-close view of some of the controls.

Conclusion
Based on our findings in our Yamaha PSR E253 review, we believe that this product is a perfect fit for a wide range of users ranging from beginners to intermediate players. The wide selection of instrument choices is definitely going to be a big plus for music lovers. We also found the educational tools to be very helpful as well. Once you have tried it out for yourself, we would love for you to tell us about your experience in the comments area.
Last update on 2022-07-01 / Affiliate links / Images from Amazon Product Advertising API